Downtown Disney Dining is home to some of the best restaurants and yummiest treats in Walt Disney World!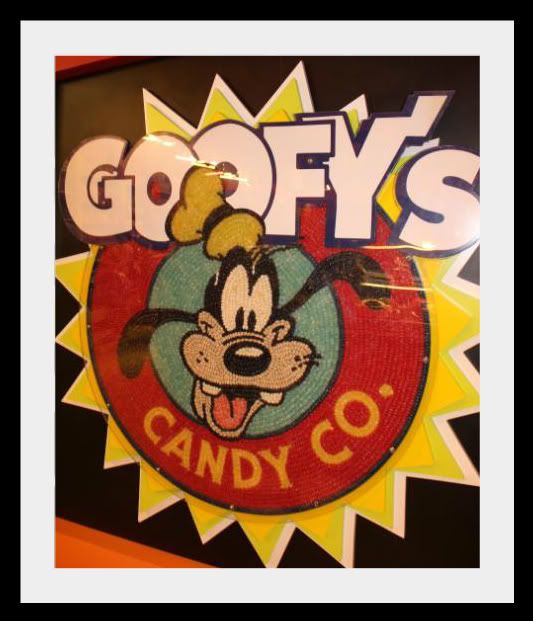 Sign in Goofy's Candy Co. made out of Jelly Beans!!!
Tonight we went to one of my favorite and fun places to go for a special dessert in Downtown Disney Fl ~~~~ Goofy's Candy Company. ☺
Goofy's Candy Company
It's located in Downtown Disney Marketplace and whether you are staying in one of the Downtown Disney Hotels or just going to shop, enjoy Disney Dining, or hang out and sightsee, I highly recommend a stop at this delicious little store!


Mickey Mouse Rice Crispy CAKE!!!
I was very excited to see a wide variety of treats decorated for Easter. They were all so cute and looked SO good!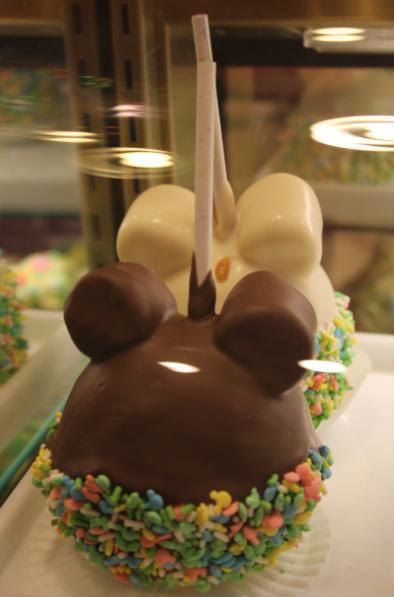 Easter Caramel Apples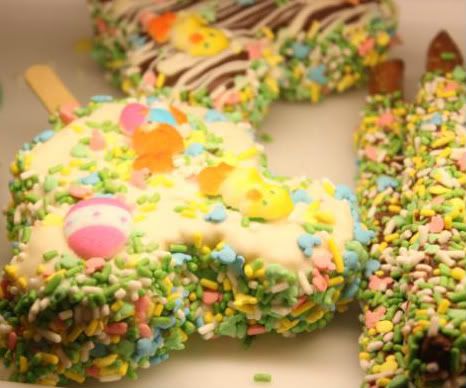 Easter Rice Crispy Treats and Pretzels
Easter Bunny Cupcakes!
I had to snap lots of Disney pictures to share with you all here. Everything looked so good I had a very hard time deciding what to get.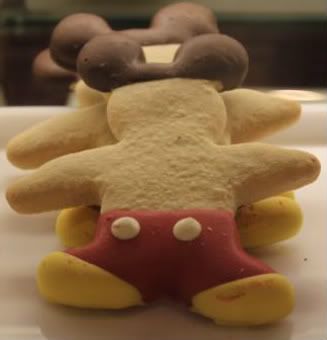 Mickey Mouse Cookies!
I took my time and looked around at all the treats. There are flavored Slushy drinks, like icees. There is a huge candy section with a big variety of candies, including Jelly Belly jellybeans. You just get a bag and fill it up and pay for it by the pound.
Jelly Beans by the pound!
There was fresh popcorn, muffins, candy apples and caramel apples, fudge, cookies, rice crispy Mickey head pops (including Easter ones too!) and a coffee menu too ! They even have a little seating area in the back.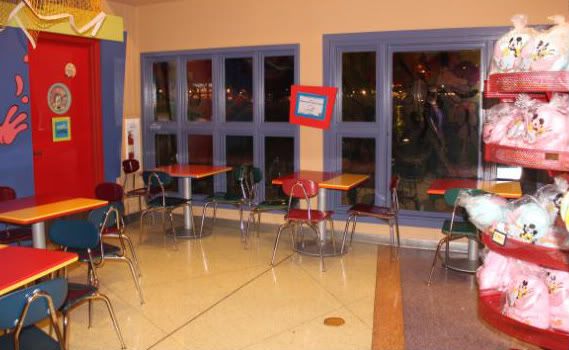 Seating area in Goofy's Candy Co.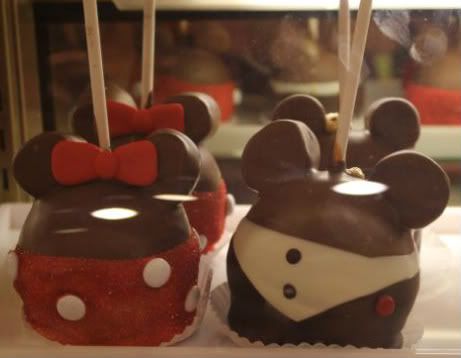 Mickey Mouse and Minnie Mouse Chocolate Covered Caramel Apples
The best thing about Goofy's Candy Co. is that you can have your favorite treat custom made for you while you watch!!!
Here is a sign with the details:
How to order your special customized treat
You just fill one of these papers out and hand it to the friendly Cast Member:
Fill this paper out to design your own treat ~ just the way you like it! Then hand it to a Cast member.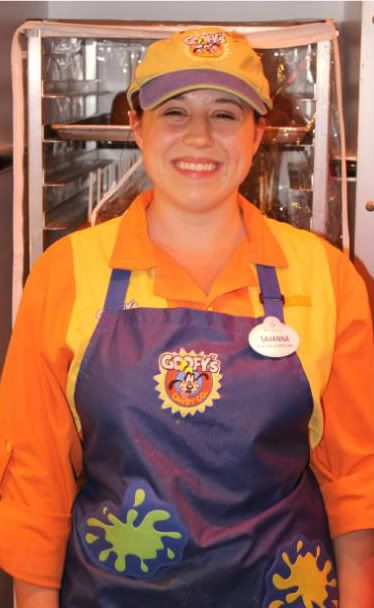 Goofy's Candy Co. Cast Membe

r
Then they make your treat while you watch.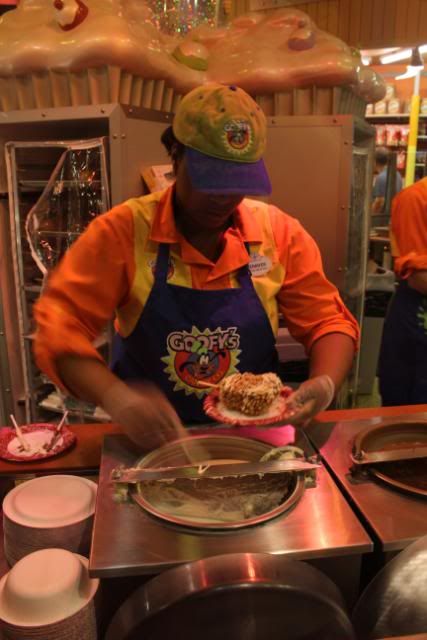 Cast Member making a specialty Rice Crispy Treat
The treats are so big and good. They pile on the toppings!!! You
get one topping with your treat but you can add another topping on for only 1.00. I have never added an extra topping on because I don't think it could hold it, lol.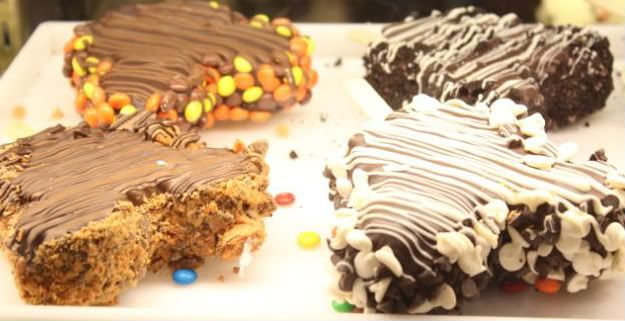 So many ways to create your favorite treat!
There caramel apples are wonderful, one of my favorite things there. I have to share it though, it's so big.
Apple Pie Caramel Apple on the Right
☺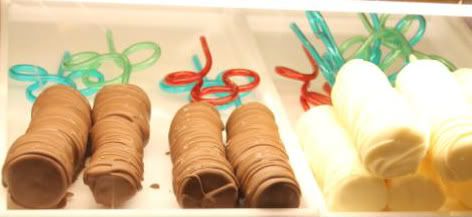 You can decorate Marshmallows too!
I also love the cake Mickey bars. They have Red Velvet and chocolate. It's cake mixed with frosting so it's soft and moist. Then they use marshmallows to make Mickey's ears and then they cover it in chocolate. White and Milk Chocolate. After they've done that they decorate them, and boy are they GOOD!
Mickey Cake Bars. The Purple and Blue bars are White Chocolate Covered

Create your own Pretzels! These are pre-made and are in the case. They make them fresh every day
Tonight this was calling my name: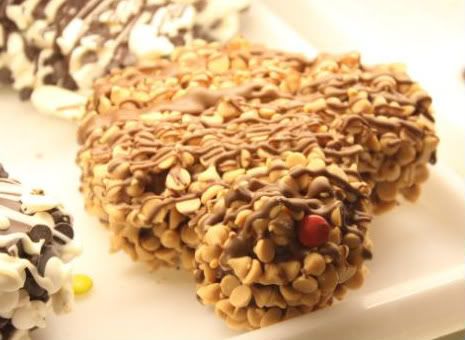 My yummy peanut butter chip rice crispy treat
It was so big and beautiful and artistic, I just had to have it! Those are peanut butter chips ... boy are they good! This is one of the things they can make for you but they always keep the display case stocked so you can grab a treat in a hurry if you don't have time to wait.
♥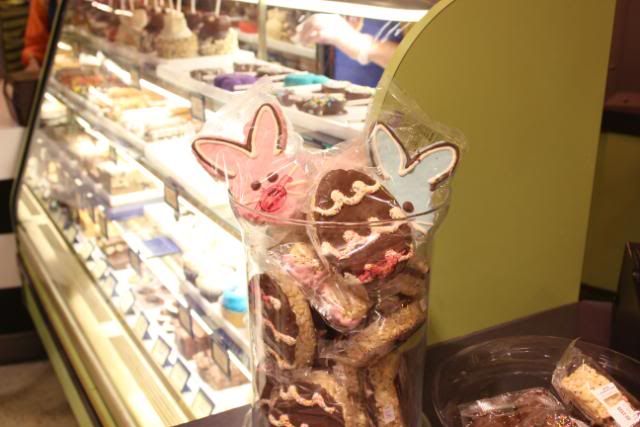 So many goodies to choose from!
Goofy's Candy Co. is truly a Downtown Disney Dining Treat ♥. I hope you have the opportunity to visit Goofy in his little candy shop. Good luck choosing what you want though!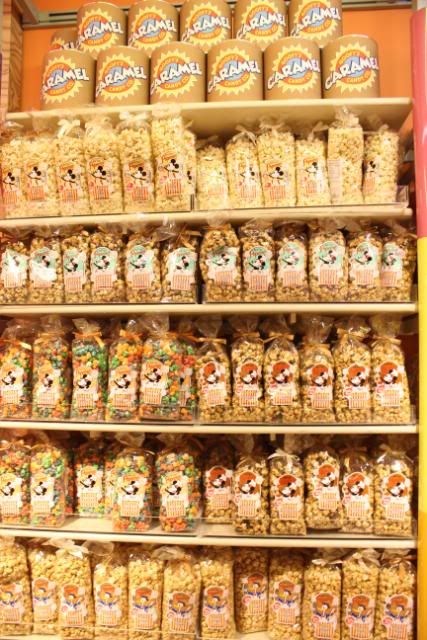 Popcorn choices
If you plan on going and you're not sure where the shop is located you can go to Guest Relations and pick up a Downtown Disney Map.
Spring Cupcakes
There are lots of other great places to eat and shop and see and experience in Downtown Disney World. I will post more pictures and stories and Disney tips on the other restaurants, shops and the other Downtown Disney Attraction in the future.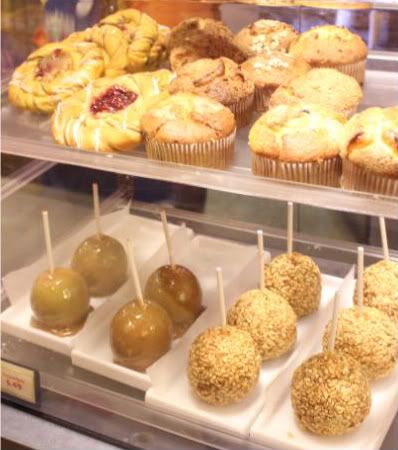 Pastries & Caramel Apples at the Coffee Station
Goofy
Thanks for reading our Living Disney Blog! We update daily with new posts so please Follow Us to stay Up To Date!
♥ ♥ ♥ ♥ ♥ ♥ ♥ ♥ ♥ ♥ ♥ ♥ ♥ ♥ ♥ ♥ ♥ ♥
Please Check out our Website for more detailed information on Walt Disney World Resorts.
http://www.Explore-Disney-Resorts.com.xml
http://www.livingdisney.co.xml