One of our favorite day trips is Caspersen Beach, right below Sarasota, here in Florida. It's a gentle, peaceful and quiet Gulf beach that is famous for it's shark teeth!
Seagulls at Caspersen Beach, Florida
From our house, it only takes around 1:45 to get there, and it's a nice, fast and easy drive on the highway.
Caspersen Beach Florida
We love Caspersen Beach because it is secluded, in it's still in it's natural state, and it has lots of shark teeth, and calm water!
Calm waters at Caspersen Beach!
Sometimes we make a weekend of it, and stay in a hotel in Sarasota. When we do that we get to visit our favorite places like Yoders Amish Restaurant (featured on the Travel Channel) and Salty Dogs Cafe (Also featured on the Travel Channel).
Paradise!
We also love to go downtown and walk around and visit the various shops. We found a great little French bakery that sells homemade Macaroons and chocolates in a wide variety of flavors.
-->

Sarasota is a beautiful city, and just driving around near the bay will give you plenty of gorgeous views of bridges and clear gulf waters.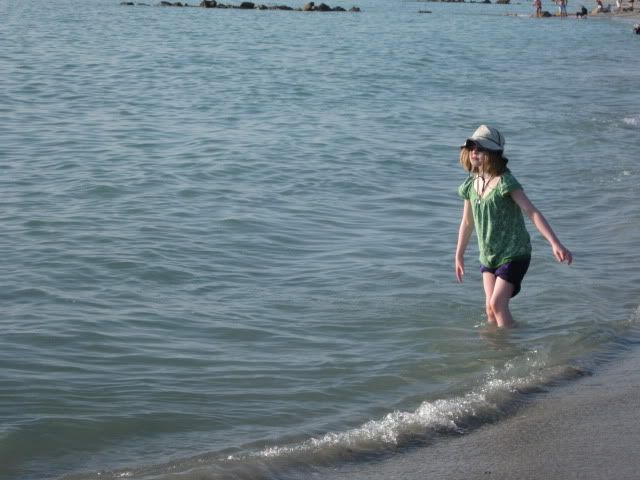 Mahnara at Caspersen Beach
We also love to go to the Mote Marine Aquarium in Sarasota (more about that in the future!).
Venice Beach is more well known, and is above Caspersen Beach. It's way more popular though, and much busier. Venice Beach also has shark teeth in it's shells and sand, and is actually called the "Shark Tooth Capital of the World".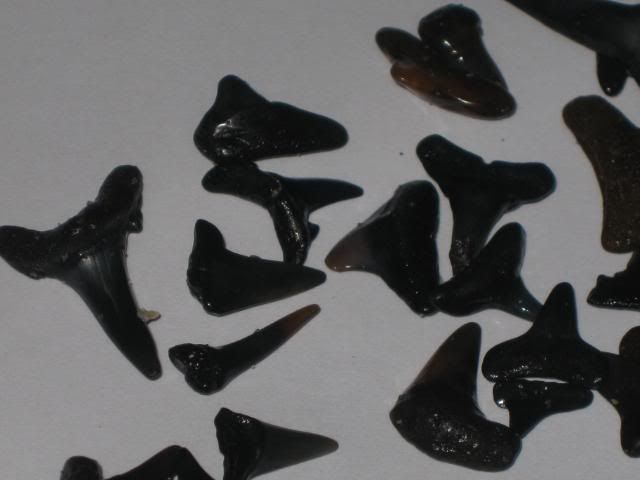 Some of our Shark Teeth finds from Caspersen Beach
We choose Caspersen Beach because it's in it's natural state, with no high rise hotels or condos, or business. Just you and the beach and the calm sea ☺.
We find this beach very special, like a little piece of paradise, right here in Florida. It reminds me of the Caribbean Beaches I've visited on my many cruises.
Caspersen Beach at Sunset
What brought us to Caspersen Beach was the Shark Tooth hunting. I thought it would be a fun thing to experience, and it was!
It's very easy, and anyone can do it! You can find many, many shark teeth on the beach, there are hundreds (probably thousands of them!).
We stopped by a gift shop in the area and purchased this scoop. It was about $22.00. It has a long handle and the basket is large.
Scoop for Shark Teeth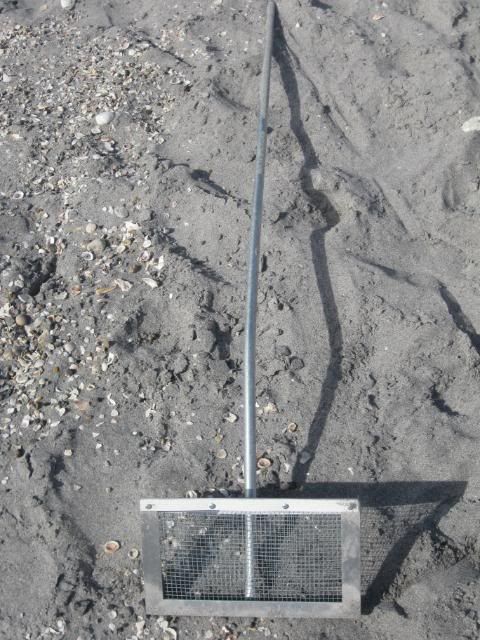 Scoop for Shark Teeth Hunting
You just take it into the beginning of the water and scoop. Scoop up the shells and sand. I always look for the shells or areas that seem darker, because they tend to have more shark teeth.
Once you scoop up your load of sand and shells jiggle it around in the water to rinse the sand out. Do that really well to remove all the sand, it makes it easier to pick out the teeth.
Once you have your basket of rinsed shells head over to the beach and dump them on a strainer, like the one below.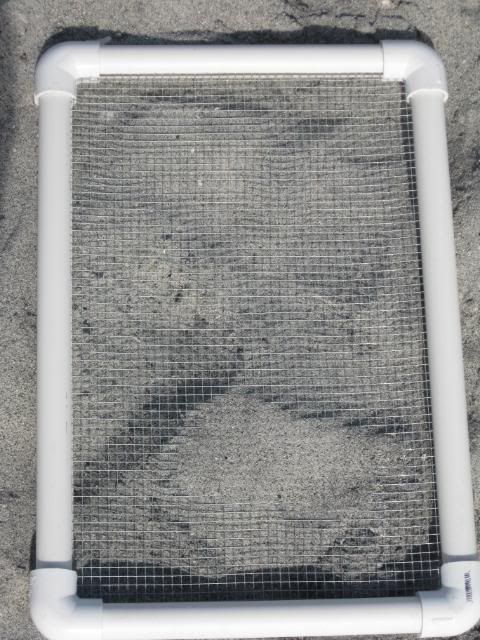 Strainer used for sifting through shells looking for Shark Teeth
We purchased that at the gift shop also, it was around $15.00. Be careful ~ there are lots of neat things in those beach gift shops! We ended up spending almost $300.00 on stuff! The kids wanted fossils, shark teeth, shark tooth necklaces ... I got a bumper sticker, keychain, necklace ... too much stuff to list! You may just want to grab your shark tooth hunting supplies and run, lol.
Shells and Shark Teeth Mixture
Once you dump your shell mixture on the strainer, just dig through it!
Mahnara looking for Shark Teeth!
You will find lots of neat shells, shark teeth and other things! We found a lot of these little black things, like teeth but rectangular with grooves. Someone told us they were from a Stingray (don't remember which parts, bone maybe?)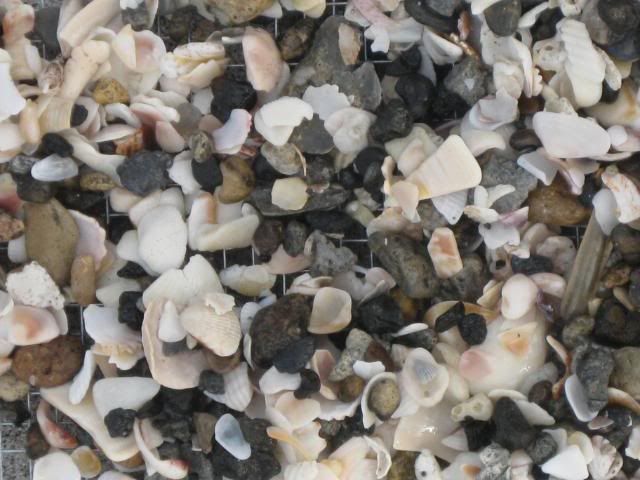 Shell and Shark Teeth mixture - pre-digging
Just pick the teeth out and sit them aside. I have zip loc bags to put mine in, or you can use a bucket or other type of container.
Some of our Shark Teeth Finds
That's it! It's as simple as can be! (And SUPER fun!!!).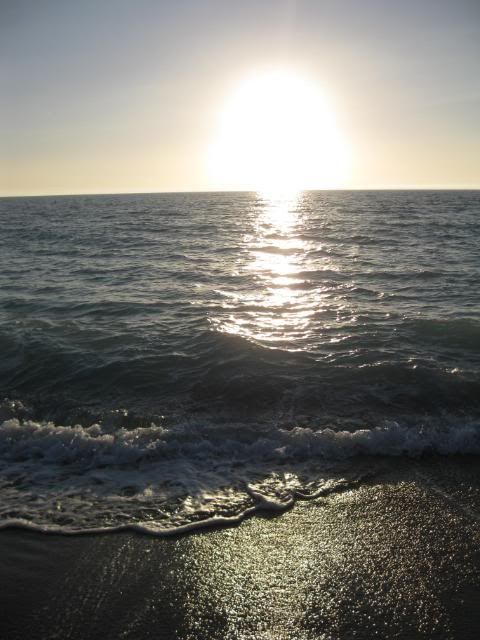 Sunset at Caspersen Beach
You will see many other Shark Tooth hunters our searching for Shark Teeth. Some old, some young ... some with tools they purchased (like us) and some with really cool homemade tools.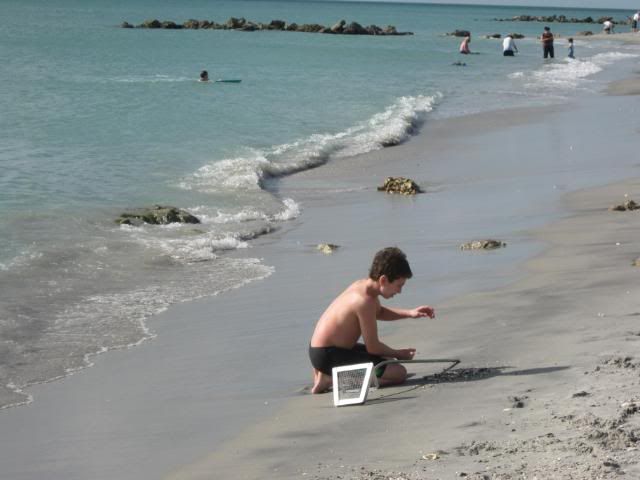 A boy hunting for shark teeth
One man had made a floating sifter. He used pvc pipes and put those pool floaty noodles around the so that the thing would float, and of course he put some type of wire netting in the middle. It was really neat because he didn't have to leave the water.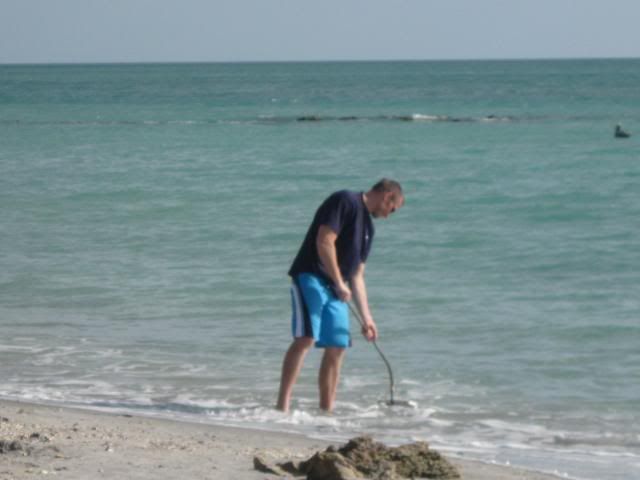 A man hunting for shark teeth
I personally liked leaving the water. I enjoyed bringing my pile of shells and teeth back to my chair and enjoying the beach and my kids hunting and playing while I sifted through the shells.
It was truly and incredible and amazing, memorable experience and it's my favorite place to go here in Florida besides Walt Disney World ♥.
People Shark Tooth Hunting
If you have a Florida Family Vacation or Walt Disney World Vacation planned I highly recommend a visit Caspersen Beach or Venice Beach!
Caspersen Beach
Whether you want to hunt for sharks teeth, swim, relax on the beach or enjoy a gorgeous Florida Gulf Beach sunset, this is the place!
Caspersen Beach Sunset
Make sure to bring a hat and wear plenty of sunblock (don't forget to reapply!), water and towels (there are outdoor showers). It's secluded so you may want to bring lunch or snacks too. I also suggest stopping by a store for some cheap bread. It's super fun to feed the Seagulls!
Thanks for reading our Living Disney Blog! We update daily with new posts so please Follow Us to stay Up To Date!
♥ ♥ ♥ ♥ ♥ ♥ ♥ ♥ ♥ ♥ ♥ ♥ ♥ ♥ ♥ ♥ ♥ ♥
Please Check out our Website for more detailed information on Walt Disney World Resorts.
http://www.Explore-Disney-Resorts.com.xml
http://www.livingdisney.co.xml