Disney Animal Kingdom is Walt Disney World's newest Disney Theme Park, located
right next to the Disney Animal Kingdom Resort.
It is the least popular Theme Park, even though it has lots of cool Disney Animals.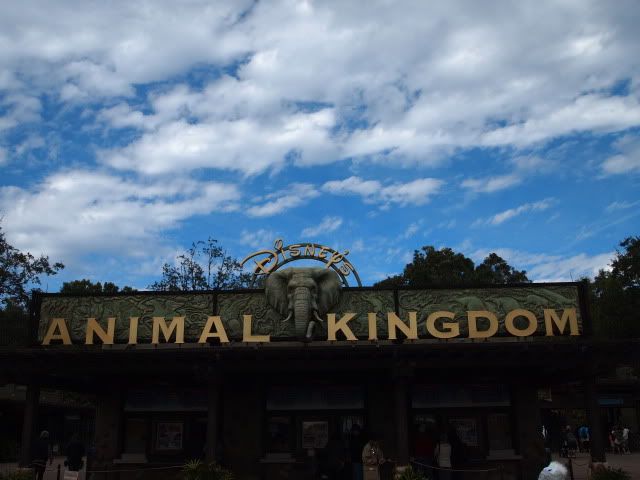 Ticket Booth - Entrance to Animal Kingdom Park - Walt Disney World
A lot of people skip Animal Kingdom unless they are Animal Lovers. They consider it a park they can miss "this trip". They'd rather use their Disney Tickets on the other theme parks; Magic Kingdom, Epcot or Hollywood Studios.
Zarius - Animal Kingdom Park
We LOVE the Animal Kingdom! It's a beautiful park filled with fun attractions and shows and great Disney Pin Trading.
We never get bored with Animal Kingdom and love to spend our mornings at the park riding our favorite rides over and over again before they get busy, and while the Disney World weather is nice.
Today I'm going to be sharing some pictures of the kid's favorite attraction at AK ~ Dinosaur!
Dinosaur! Watch out for those meteors!
You may or may not have had the opportunity to experience Dinosaur so I won't give away any spoilers.
-->
Let me just say that it's dark, jerky (if you have a bad back don't ride!), loud, in your face scary and FUN!!! (Beware ~ it WILL scare small children)
Aladar from the Disney movie Dinosaur
The pictures they take of you on the ride that you can purchase afterwards are always a laugh. They capture you right when they "scare" you.
Main Entrance to Dinoland U.S.A.
I have purchased quite a few of those pictures, just because they were so funny and great.
Mahnara and Zarius love Dinosaurs anyway. They love watching the Dinosaur programs on Netflix and Mahnara wants to be a Paleontologist when she grows up.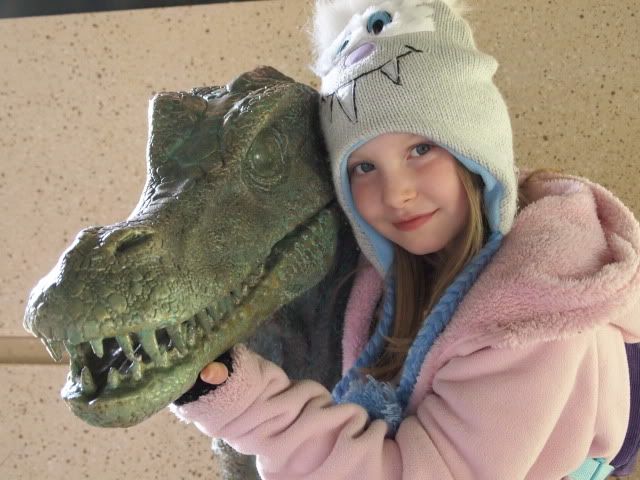 Mahnara outside the exit of Dinosaur
Maybe that's one reason they love the ride so much ☺
Zarius out front of the main gates of Animal Kingdom, waiting to start his fun day!
There is also a neat pathway to the right, before you go up to the ride. You can find Dinosaurs hiding in the bushes and they make for GREAT Disney Pictures ☺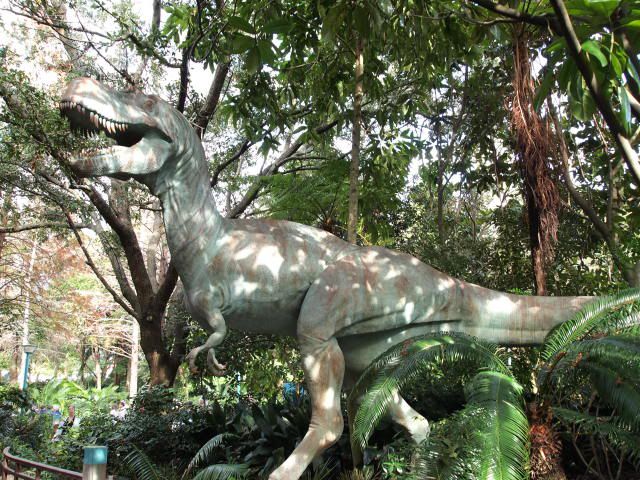 Dinosaur statue in the trees on the walking trail
Dinoland USA is fun too, we love the Primeval Whirl coaster and the kids love playing in the Bone Yard (inside the play park).
Chester and Hester's Dino-Rama, a really fun place!
There are lots of fun things to do in the Animal Kingdom. They have great Disney Dining with food choices that include Vegetarian Dining at Disney World.
The kids love the Pizza in Africa, the Chinese type food in Asia and of course the Ice Cream.
What's nice is that their Grandmother takes them to the Animal Kingdom a lot. It's one of her favorite parks in WDW. She always buys them a Stuffed Animal or Animal Figurines (like a little toy Dinosaur) which they love of course.
Have you been to the Disney Animal Kingdom Park before? What are your favorite rides or restaurants there?
Dinosaur Skeleton near the Dinosaur attraction


Please Share your Thoughts and Comments here on our Disney Blog with us below☺.
Look at that gorgeous Florida sky! Taken on the way to ride Dinosaur
Thanks for reading our Living Disney Blog! We update daily with new posts so please Follow Us to stay Up To Date!
♥ ♥ ♥ ♥ ♥ ♥ ♥ ♥ ♥ ♥ ♥ ♥ ♥ ♥ ♥ ♥ ♥ ♥
Please Check out our Website for more detailed information on Walt Disney World Resorts.
http://www.Explore-Disney-Resorts.com.xml
http://www.livingdisney.co.xml