Disney's Epcot Spaceship Earth (SSE)
is one of my favorite Disney Theme Park Icons to Photograph. At night it is especially breathtaking because it's bathed in beautiful colors. Night photography is more difficult than daytime photography and I'm going to help you by giving you some digital photography tips!
Snapping pictures during the day is much easier than at night. Below is a picture I took during the day.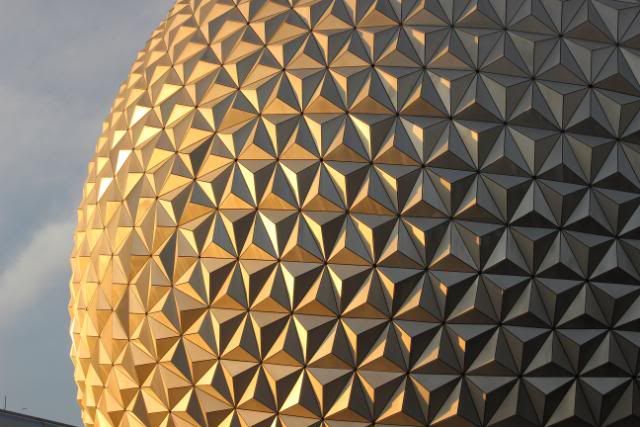 Spaceship Earth Epcot during the day
If you stand anywhere around SSE you can take great pictures ~ just turn your flash off. Try different angles and not just the same one. You can always delete or erase the ones that don't turn out well, or that you don't like.
-->
I recommend a tripod, whether you're just getting into beginner photography or you are into advanced photography. It's really hard to get nighttime photography to come out the way you want it to without one.
Another fun thing to do is go to the park entrance for some great pictures. Here you can get some of the trees and landscape in the photo. It's also a great place for family photography!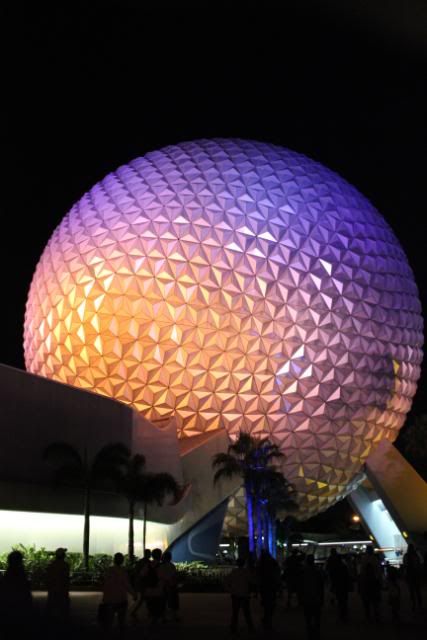 Spaceship Earth at night
When you're adding a subject to your photograph you have to do things differently. This is where the biggest digital photography tip comes into play.
It will be dark in front of you ~ your subjects will be in the dark. If you leave the flash off to capture Disney's Epcot Spaceship Earth your subjects will be in the dark. You won't see their features and it won't make a good photograph.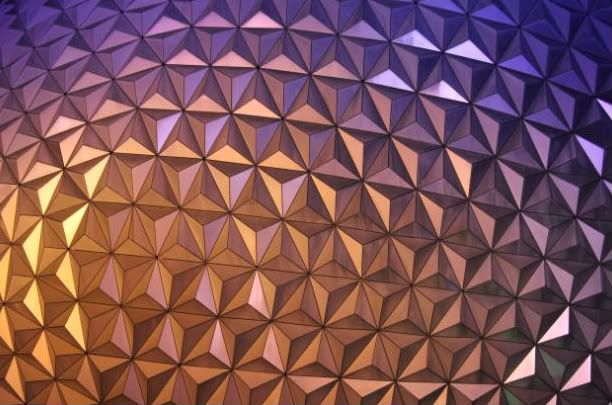 Experimenting with textures - Spaceship Earth Epcot at night
What you have to do is to actually turn the flash ON. This lights up the subjects in front of you but doesn't affect the icon in the background (SSE) that your photographing in front of because it's already lit up ~ creating it's own light.
The finished product should look like this: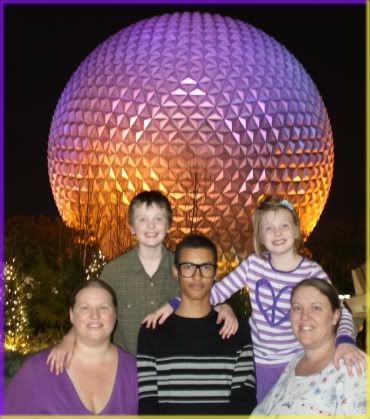 Using the flash in front of Spaceship Earth at night
Notice how well our our family is lit up, and how well the colors on Disney's Spaceship Earth turned out? That's the key to great portrait photography at night in front of an object that is backlit.
I turned the flash on for that shot.
In the picture below, you can see the difference. For that shot I left the flash OFF. It took a great picture of SSE but not of the subject in front of it.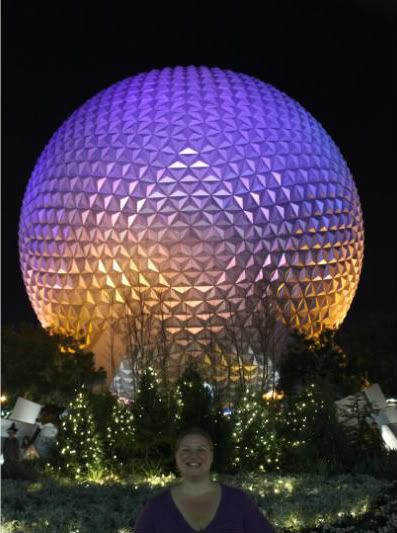 Elizabeth in front of Spaceship Earth at night WITH NO FLASH
No matter what camera you have, you can take incredible and great Disney pictures at WDW! It doesn't matter if you have a Micro Four-Thirds, a Camera Phone (these can take GREAT pics ~ I know my Apple iPhone 4 does!), a Rangefinder, DSLR, a Kodak Disposable Camera (these come in handy, especially the waterproof ones for underwater photography at the Disney Water Parks!) or a point and shoot camera.
Now a days I commonly see Disney World guests taking pictures of the Disney Resorts and Theme Parks with their tablets. (the new iPad or iPad 2 which are very popular tablets that take wonderful pictures). Trevon has a Samsung Galaxy Tab 10.1 (an Android tablet) that he loves and he uses it frequently to snap pictures around Walt Disney World.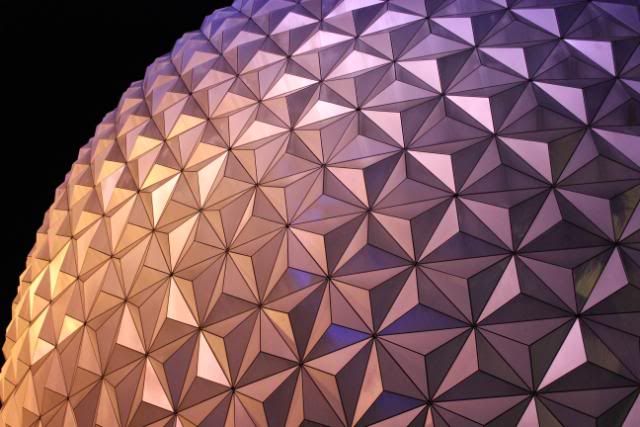 Spaceship Earth at night
I started off with a point and shoot ~ a Canon Powershot. It took super pictures, you can see them here on my Disney blog. In December I bought myself a Canon EOS Rebel T3i for Christmas and I got the youngest kids each their own Olympus PEN, and Trevon got a Canon EOS Rebel T3i like mine ~ since he's an aspiring photographer and very talented at making art with his shots.
Thanks for reading our Living Disney Blog! We update daily with new posts so please Follow Us to stay Up To Date!
♥ ♥ ♥ ♥ ♥ ♥ ♥ ♥ ♥ ♥ ♥ ♥ ♥ ♥ ♥ ♥ ♥ ♥
Please Check out our Website for more detailed information on Walt Disney World Resorts.
http://www.Explore-Disney-Resorts.com.xml
http://www.livingdisney.co.xml