When we went to Downtown Disney Florida last night for a dessert at Goofy's Candy Co.. On the way there we passed a cute little outside booth, Lefty's The Left Hand Store.
It features a wide variety of merchandise geared for the left handed folks. Scissors, pencils, pens, cute T shirts, and lots of other neat stuff. This is a great example of the unusual things you can find while enjoying the Downtown Disney shopping.



-->
Zarius especially liked the items for sale in the shop because he's left handed.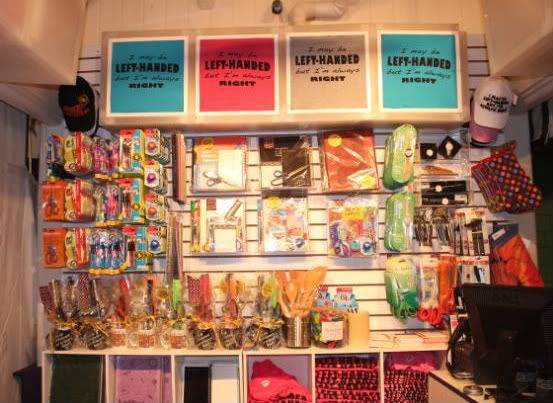 Merchandise for sale at Lefty's
There isn't a whole lot of merchandise as you can see above, but there are plenty of items to make writing and doing your schoolwork easier if you're left handed.
They even had 2 areas set up where you could try out the various pencils, pens and gadgets before buying them. The kids liked that part ☺.
Mahnara even found a great little pencil even though she's right handed.
If you're staying at an area Disney Downtown hotel then it's just a short walk to this little gem of a store.
Lefty's The Left Hand Store
You will find it opens and closes with the rest of the Downtown Disney Marketplace and if you're not sure of the Downtown Disney hours during your Florida family vacation just stop by Guest Services to pick up a Downtown Disney Map and Times Guide for the week you're visiting.
Carousel at Downtown Disney Marketplace
Thanks for reading our Living Disney Blog! We update daily with new posts so please Follow Us to stay Up To Date!
♥ ♥ ♥ ♥ ♥ ♥ ♥ ♥ ♥ ♥ ♥ ♥ ♥ ♥ ♥ ♥ ♥ ♥
Please Check out our Website for more detailed information on Walt Disney World Resorts.
http://www.Explore-Disney-Resorts.com.xml
http://www.livingdisney.co.xml