Boma Restaurant Flavors of Africa, at Disney Animal Kingdom Lodge, is our FAVORITE Walt Disney Resorts restaurant! Today on our Disney Blog!
They offer breakfast and dinner - all you can eat Disney dining buffet style.
Boma Disney Animal Kingdom Lodge
I recommend making a Disney dining reservation to make sure you can get a table for the day and time you want.
We have been quite a few times with no reservation and have gotten a table - especially during the slower times of the year.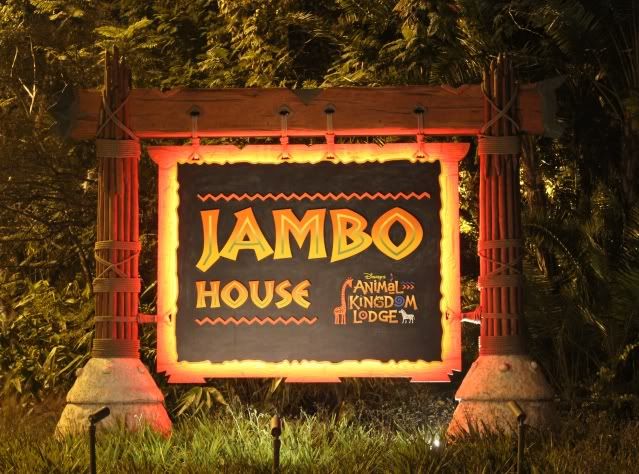 Jambo House Animal Kingdom Lodge
Boma - Flavors of Africa- is a great place to use your Disney Dining Plan and although you won't be dining with characters the atmosphere in Boma is fun and filled with Disney magic.
The way the buffet table is set up, mixed with the rich, beautiful dining room furniture creates a gorgeous, laid back and friendly place to start your Disney day, or to end it with a special family dinner.
Boma Dining Room and Buffet Table Animal Kingdom Lodge
One of the most common concerns I hear about Boma at
Disney Animal Kingdom Lodge is that people are afraid to try the African inspired foods there. I know the first time I went, back in 2003 I was hesitant.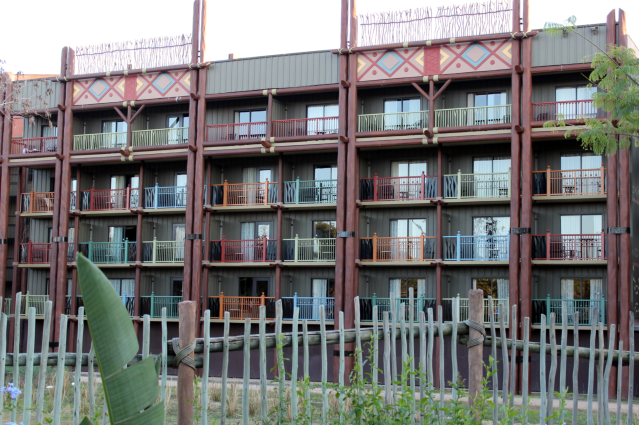 View of the Jambo House Animal Kingdom Lodge Savannah view guest rooms and the Savannah
Boma describes their foods as using a lot of spices, so I automatically figured it would be spicy, which I don't like at all. Also, the foods were unfamiliar and I found myself wondering, as others do, will I like them? Will I waste my money, my time or my Disney Dining credits?
It turns out though that they use spices as a flavor, and their foods are not hot or spicy.
The foods are super flavorful and really quite mild and I was pleasantly surprised the first time I ate there in 2003.
Even the pickiest eater in my family, who prefers plain flavored foods liked Boma's selections.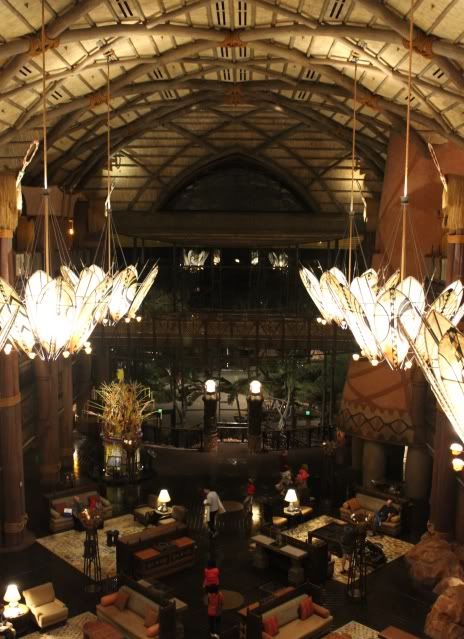 Lobby of the Jambo House Animal Kingdom Lodge at night.
The kitchen is open so you can see the Chefs at work, and you can interact with them. This adds a little extra Disney Magic to your Disney World Resort Dining Experience.
They

can

also make items for you or your children upon request. They made my son a grilled cheese and chicken tenders once because he asked the chef's if they had any.
We went one night and he had chicken tenders, which were delicious. The next night we went they had another type of chicken, not tenders. It turns out they had tenders only certain days of the week but they made a plate full just for him.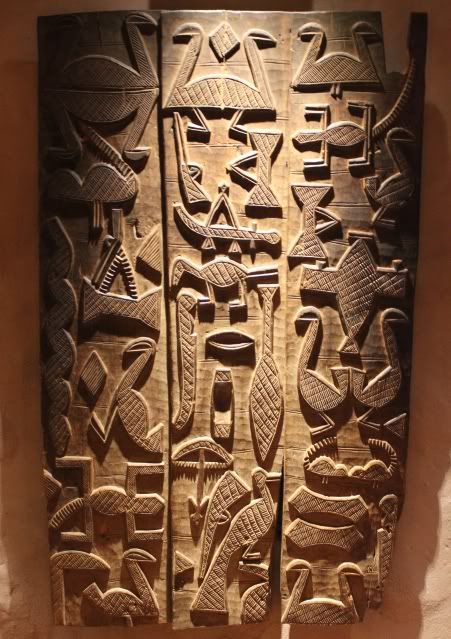 It's believed the touching this door will send you safely into the future - Jambo House Animal Kingdom Lodge
Boma -Flavors of Africa- at Disney Animal Kingdom Lodge, is famous for their dessert and most particularly their Zebra Domes. They are yummy! Although you won't find ice cream here, you'll find lots of other great desserts along with the Zebra Domes, including one of our favorites, Simba Paw Prints.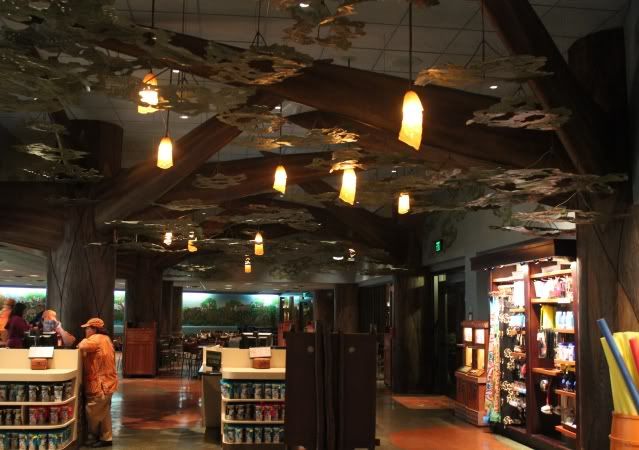 Mara Food Court Jambo House Animal Kingdom Lodge
Our favorite time to eat at Boma is for breakfast.
They have THE BEST made to order omelets. So big and stuffed full of the veggies, meats and cheeses that you pick.
I personally don't eat much meat, so I fill my omelet with loads of fresh veggies. You can find a lot of vegetarian dining at Disney World ~ including Disney Boma.
It's not just for the meat lovers and maybe that's why I like breakfast the most. It offers a wide variety of meat free foods and meat too if you want it. I guess it's more like a brunch with the carved breakfast ham and cured pork loin that they offer.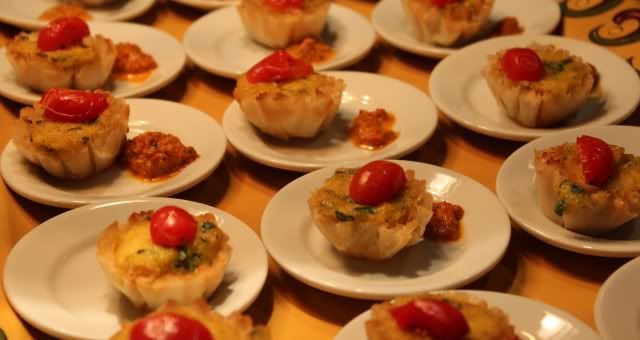 Delicious African Foods!
Boma at Disney Animal Kingdom Resort, has a delicious breakfast juice called West African Frunch which is Lemonade, pineapple juice, guava juice, papaya juice and orange juice all mixed together! They also have wonderful coffee.
Animal Kingdom Lodge
My favorite breakfast dish at Boma is Bobotie. I even asked them for the recipe a couple of years ago and make it at home! It's eggs, potato, cream, onion and corned beef. So delicious!!! When I make it at home I substitute the corned beef with natural and organic sausage.
I love spending some time at Disney Animal Kingdom Lodge, browsing the gift shop (they have a lot of good Disney shopping) and doing some Disney Pin Trading, of course. I also make sure to take a stroll out to the savannah to enjoy the Disney animals when I'm done eating. Work off some of that good food I just ate.
Boma - Flavors of Africa - is a gorgeous restaurant and it's a fun place to celebrate birthdays and other celebrations too! I like to go there for breakfast on my birthdays. They always bring me a special treat.
If you have a trip planed to Disney World, you should try and work in a breakfast or dinner at Boma at Disney Animal Kingdom Lodge. Its' easily accessible by Disney World bus from any of the Disney Theme Parks or by car, just follow the signs to the Animal Kingdom Resort Area.
Bridge on the fifth floor that crosses the lobby of the Animal Kingdom Lodge Jambo House
Thanks for reading our Living Disney Blog!