Legoland Florida
We have three Lego Lovers in the family so we were THRILLED when Legoland came to our area.
Legoland Florida Main Entrance Gate
We visited Legoland in November 2011, only a few weeks after they officially opened. We were lucky and got to visit during good Orlando weather! It was still hot but not so hot you couldn't enjoy the day.
The kids loved it and ask me frequently to buy annual passes so we can go more often. It's only 1/2 an hour from our home so it's very convenient. I haven't purchased the annual passes yet though because there is already so many things to do in the Orlando area.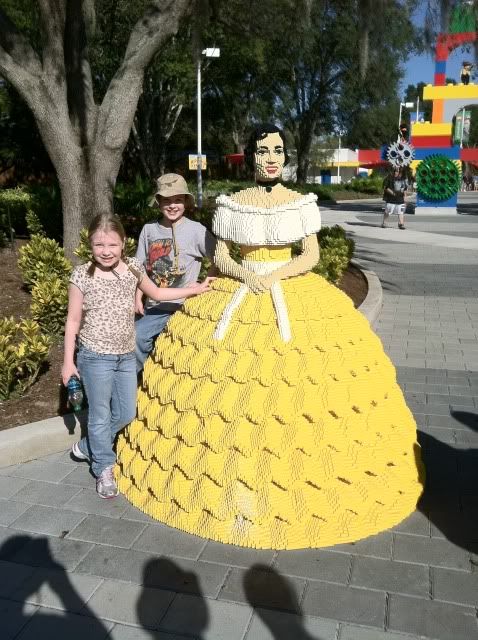 Zarius and Mahnara posing next to a Tribute to the Cypress Gardens of yesteryear Southern Belle ~ built out of Legos
We had Seaworld Orlando, Aquatica, and Busch Gardens Tampa Bay annual passes for the first 2 years we lived here. At first we visited SeaWorld Orlando and Busch Gardens a lot. Sea World is about 20 -25 minutes away and Busch Gardens is a little under an hour.
We have never visited Universal Studios Orlando ~ can you believe it?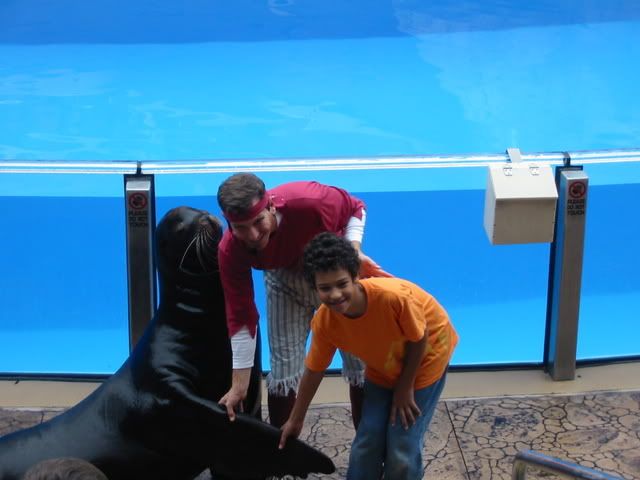 Trevon and a trainer at SeaWorld
After a while though we stopped going to those parks as much as we used to and mostly went to Disney World and other Orlando attractions.
Although Legoland was a very fun and unique theme park, I personally don't think I'd choose to go there over and over and over again. Especially over Disney World. A few times here and there would be fun, but it's a park mostly for the young kids.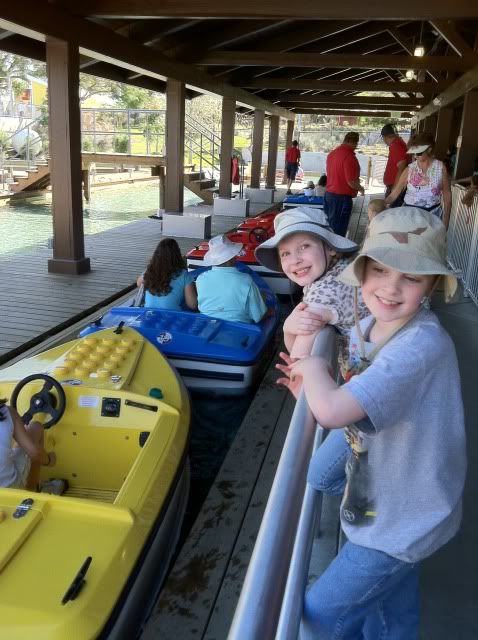 Mahnara and Zarius waiting to drive a boat at Legoland (It was FUN!)
I would love to go again, and we will I'm sure. There are a lot of homeschool groups in Central Florida and in the City of Orlando, Downtown Orlando and the Disney World area that go to the theme parks regularly and offer great group student and family discount ticket rates.
Trevon say's Legoland is his favorite theme park. He really enjoyed the landscaped and lush gardens and trees and flowers. He loved the laid back and relaxed atmosphere that you don't see too often in a busy theme park.
Trevon ~ Legoland Florida on Technic Test Track Ride Vehicle
It was truly a beautiful park, and the rides were fun but 1 day was definitely enough to see and do most everything there.
I am so happy that Legoland left the original Cypress Gardens intact. The beautiful garden like atmosphere really helps make the park seem bigger. I think it's on the small side with a total of 50 shows & rides.
The rides are definitely made for the kids. Even the coasters are kid friendly!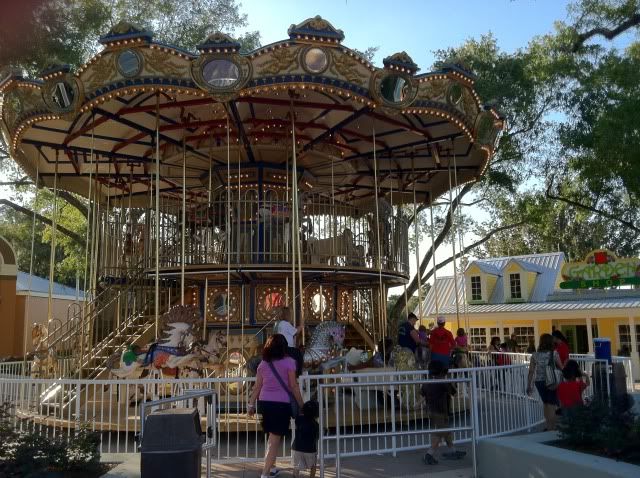 Double Decker ~ 2 Story Grand Carousel at Legoland Florida (we rode it a lot!)
One of the highlights of the day was Miniland USA. Miniland USA is really an amazing work of Lego art! It featured different cities/towns/areas all made of Legos.
The details were amazing! They had moving parts and lights and water and more!
Zarius and Mahnara posing with a Dinosaur built out of Lego Bricks at Coastersaurus
There were millions of Lego bricks used to create the replica areas which include my favorites the Las Vegas Strip, complete with the MGM Grand (which we stayed at in 2000 so it was extra special), St. Augustine Florida (which we also LOVE), and a whole Pirate themed scene.
Lego Kingdoms area of Legoland Florida
I did really enjoy the beautiful way the park was laid out and landscaped though and the kids loved the smallish coasters ~ just their size.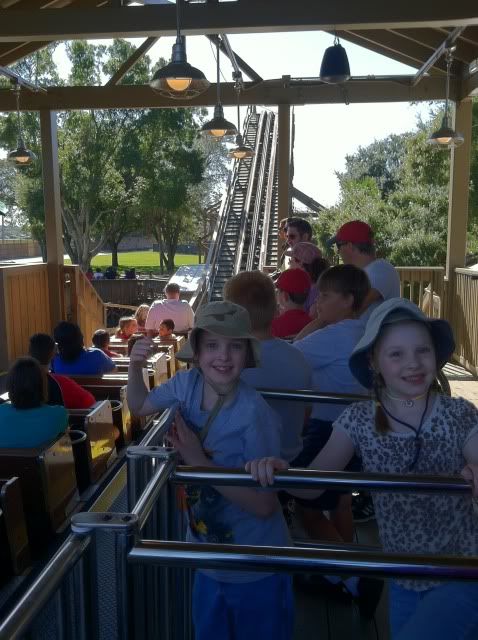 Zarius and Mahnara waiting to ride the Dinosaur themed wooden coaster, Coastersaurus at Legoland Florida
Before we went I did a little research and found out that they have Lego Mini Figure trading there. Some of their employees (called Model Citizens) wear one or two of them on their nametags and you can trade with them for one of yours.
Zarius and Mahnara LOVED Technic Test Track! I skipped it ... I think the crazy mouse type coasters are SCARY!
We were excited about trying the Minifigure trading out because we love to trade Disney Pins. It was fun especially at first. The first trade we did was in the car at the gate to pay for parking. We had brought a few of our extras from home.
After we got into the park we had to go into the Minifigure gift shop and buy some more. Throughout the day we noticed that not too many Model Citizens actually had their minifigures on to trade :( Apparently they fall off of their name tags easily and get lost. We wound up going home with a bunch of un-traded figurines.
Flying School Coaster at Legoland Florida
We looked in a few of their Gift Shops, which were filled with legos. We didn't buy any Lego sets though because we buy our Legos at the Lego store in Downtown Disney. We get a 10% discount there. Be warned! Don't wait until the park closes to shop!!! The lines were HUGE and we literally couldn't even walk through the store. I've never seen such a crowd in a store before. The stores were small, which made it worse.
Ford Jr. Driving School ~ the kids' FAVORITE ride!
We had some yummy food that day. Especially the famous Legoland Granny's Apple Fries. We had many of them that day ... lol. You have to try them if you go to Legoland & Cypress Gardens. Delicious.
Mahnara and Zarius in front of main entrance gates on a Welcome Sign made of Legos!
Legoland is definitely a theme park for the kids. It may not be overflowing in Magic like Disney but our day was just as Magical. We had a wonderful and memorable day filled with lots of new experiences and adventures, attractions and foods.
Trevon waiting for the gates to open at Legoland Florida
theotherflorida