The first time we ever attended Mickeys Not So Scary Halloween Party for a Disney World Halloween was in 2003, on our very first Walt Disney World Vacation!
It was also our first experience with Disney Character Dining. We had dinner at the Liberty Tree Tavern before the party started and the characters were all dressed up in costumes for Halloween, it was a great experience!
We had so much fun at the Disney Halloween Party we ended up buying tickets for another one the week after! Two different parties during our 2 week Disney World Vacation, now that was fun!
That was the beginning of our annual Disney Halloween trip to Walt Disney world. We were hooked! We loved the low crowds that time of year offered and the nice Disney World

Weather.
MNSSHP in the Magic Kingdom is my absolute all time favorite thing about WDW. We still go each and every year and sometimes more than once!
I feel that a visit to WDW is always more special during a Disney World Holiday. They really go all out with their decorations and the fun. The atmosphere is extra magical, especially for the Disney Halloween Party! A lot of visitors like to plan a Florida Family Vacation around the holidays.
I love the costumes the Cast Members wear for the parties. Have you seen them? The ladies get to wear these cute headbands with the little bats on them and they have special dresses and shirts that have Halloween colors and patterns on them. Very fun ☺
When you arrive at the Magic Kingdom for the party you're given a treat bag. They hand these out to you on your way in, before arriving at Main Street USA. I love to get my treat bag knowing I'm about to start my special night Of Halloween fun and Disney Magic. (My two favorite things!)
One of my favorite things about Mickey's Not So Scary Halloween Party has to be the lights and the atmosphere Disney creates for that special night. It's truly amazing and it's the only time of year you can see the Magic Kingdom in that special way, all decked out for Disney Halloween.
The trees are lit with orange, red and blue lights, adding to the spooky atmosphere. The park is much darker than it normally is and the colors are everywhere. In the trees, on the buildings … it's awesome!
Of course, the Haunted Mansion is even spookier during the Halloween Party nights.
At 7pm sharp, no matter where you are, you'll hear a spooky voice announcing the party. You'll hear haunting chimes and bells tolling from the Haunted Mansion and then an Organ starts to play the famous Haunted Mansion theme music ... it's at that moment that I know the fun has begun!
There is Trick or Treating of course
☺.
You get lots of good candy and chocolate – LOTS! Way more then we can ever, ever eat. There are Trick Or Treat Trails set up around the park. You just walk down the pathway and a CM gives you a handful (or two!) of candy and you are on your way again. And don't worry, lines are no problem. They move very quickly and you're in and out in a few minutes. It's very fun actually.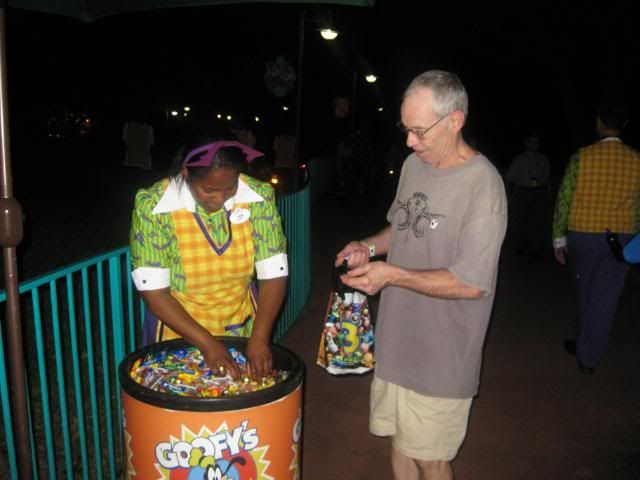 Guests of all ages get to enjoy Trick or Treating at WDW!
We love to get our faces painted. It's free for party guests, isn't that awesome?!? We also make sure to bring plenty of pins so we can do some Disney Pin Trading. We never leave home without them! Cast Members still wear their lanyards and lots of them have little flashlights so you can see what they have to choose from.
Boo to You! That is the name of the special MNSSHP parade. It features Disney Villains, Pirates, Haunted Mansion Ghosts and Ballroom Dancers, Grave Diggers with shovels they scrape on the pavement and make sparks with ... it's the best! I will never, ever get tired of that parade, or the soundtrack. It's a MUST see.
Make sure not to miss the BEST fireworks of the year! Hall-O-Wishes. Featuring Halloween colors, music and themes (with lots of famous Disney Villains!) it's a show you don't want to miss.
There are a lot of Disney Dining options too ~ most restaurants that are open during the day are open for the party also. We like to take a break in the middle of the party and have dinner. Especially when we're eating so much dessert (candy).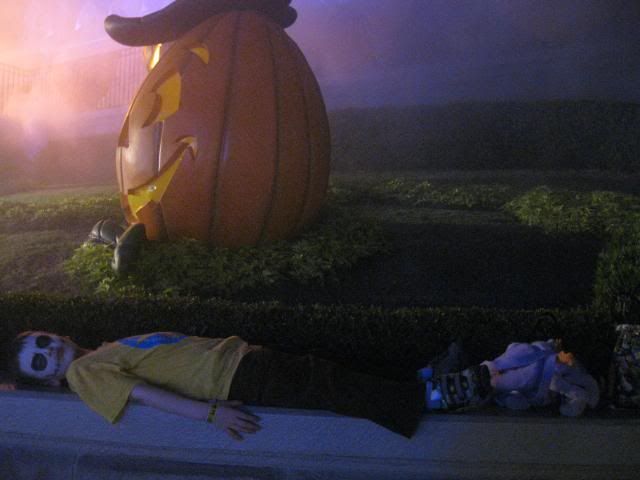 I love to have dinner at Cosmic Ray's during the Halloween Party. There is usually a dance party being held inside. I love their veggie burgers there ~ it's great vegetarian dining at Disney World (I wish they had them at all burger quick service locations).
Halloween is my favorite time of year, but even if it wasn't I'd still make sure to have a Disney World Halloween by attending the Disney Halloween Party, Mickey's Not So Scary Halloween Party.
The crowds (or lack of) are reason enough to go! Most guests are enjoying the fun events made just for these special nights or are doing some Disney shopping. They have a lot of unique and awesome merchandise for sale ONLY on the party nights and for party guests.
We've never found the rides and attractions to be longer than a 15-20 minute wait on party nights. There are a lot of folks in the park, but not very many on the rides and attractions.
We always find a lot of guests leave around 10pm (the party runs till 12am). We ALWAYS stay as long as possible ~ there is just so much to do and see the time flies by and I find the party never seems long enough.
If you're lucky enough to be staying at Disney Deluxe Resort you can just hop on a Disney Monorail and go straight back to your rooms. It's on these early am party nights I think how nice that would be, lol.
If you are going to MNSSHP you should try to dress up in a costume! So many adults and children dress up ~ you're never too old for Halloween fun at Disney World! You'll see lots of folks dressed up as their favorite Disney Character and even whole families dressed in coordinating costumes. Every year I see my fair share of Haunted Mansion ghosts too ~ I love those costumes the best!
I hope you will have a chance to have a Disney World Halloween ~ it will be a Magical Experience you'll never forget! Don't forget to take lots of Disney pictures while you're there, they turn out awesome if you remember to leave the flash off.
Thanks for reading our Living Disney Blog!
♥