Disney's Magical Magic Kingdom
Amy, Elizabeth, Zarius and Mahnara in front of Cinderella's Castle, Magic Kingdom
I grew up with a lot of the rides. We lived in Riverside California and visited Disneyland often when I was a child.
Some of my favorite memories here the past three years are of our special nights in the Magic Kingdom. I love it there at night. Especially when the Orlando weather is nice and the crowds are low.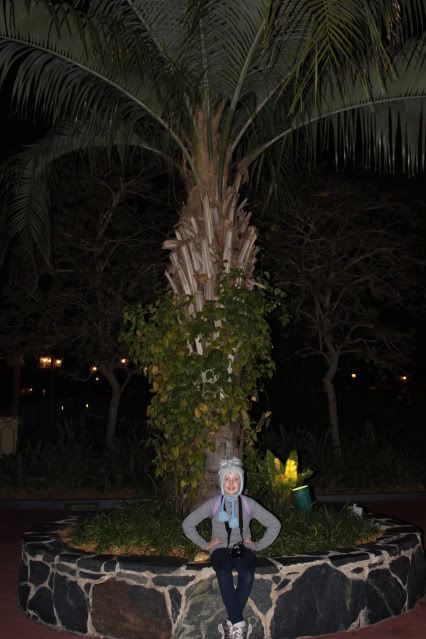 Zarius (and his Expedition Everest Yeti hat) enjoying a low crowd evening
Our favorite time to head in is when a lot of folks are heading out. We like to go over to the MK after we're done working for the day.
We get to the TTC (Ticket and Transportation Center) around 6:30 and we hop on the Disney World Monorail or the Disney Boat (the Ferry) for a ride to the Magic Kingdom.
One of my favorite attractions ~ Peter Pan's Flight located in Fantasyland Magic Kingdom
Usually the nights we head over the MK is open until 12 or 1am. By arriving at the park before 7pm and staying until, say, 12am we get to do and see a lot.
We arrive before the first parade starts and bypass all the guests sitting on the side of Main Street U.S.A and head towards Tomorrowland, Fantasyland, or, more commonly, Adventureland.
We ride the rides while the majority of guests watch the parade. After the first parade most guests keep their spot for a good view of Wishes, the nighttime Firework Spectacular.
This gives us extra time to enjoy the themed land we've chosen while the crowds are occupied and we can take some good Disney Pictures.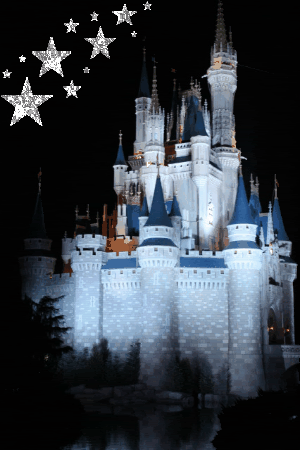 Cinderella's Castle Magic Kingdom
After the fireworks it seems a lot of guests head out. By then it's late and they are tired from a long, fun and magical day in the theme park and they head back to their Walt Disney Resorts.
Some guests have a short trip and can just hop on the Disney World Monorail (careful ~ it gets busy after the parades and fireworks end) and go directly to their Walt Disney World Resorts.
Not only are the Disney Polynesian Resort, Disney Contemporary Resort, and the Disney Grand Floridian Resorts all Disney Deluxe Resorts, they're also Disney Beach Resorts and are located on the Disney World Monorail route!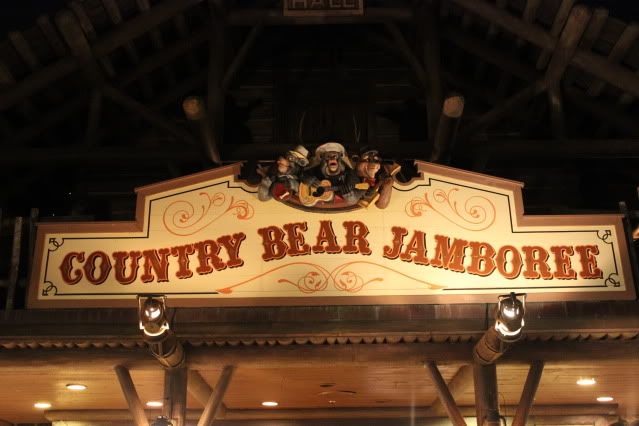 Country Bear Jamboree ~ A Magic Kingdom Classic
If the park is open until the early morning hours, we take some time to get some food or dessert and rest for a bit.
There are quite a few restaurants I enjoy that offer veggie burgers and fresh sauteed veggies that you can load onto your sandwich for no extra charge.
Those are the nights! We can take our time and go into each store to browse or do some Disney Shopping. We can take our time and do some Disney Pin Trading, which is always fun ~ you never know what you'll find.
We can ride our favorite rides and attractions without feeling the pressure of limited time. We have all the time in the world to experience the Disney Theme Parks.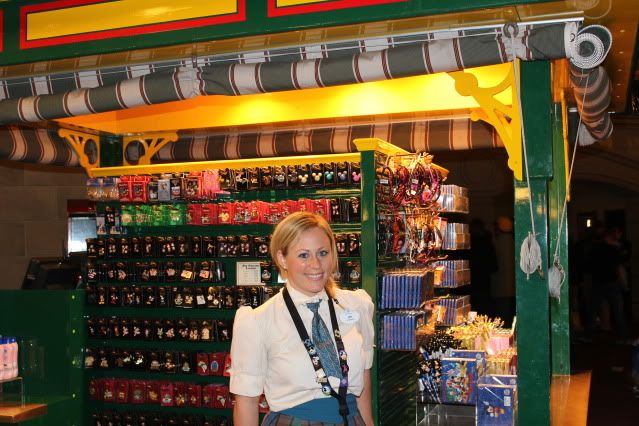 We love to Pin Trade!!! We always stop for lanyards!
We can go slowly and enjoy the atmosphere, the people, the sounds and smells. We can fully and truly enjoy the park we're in, I love it.
The kids love to stop by the Shooting Range in Frontierland and play Disney Games ~ it's fun and at night it's usually not crowded at all.
We almost always visit the Haunted Mansion (a family favorite), and Big Thunder Mountain Railroad.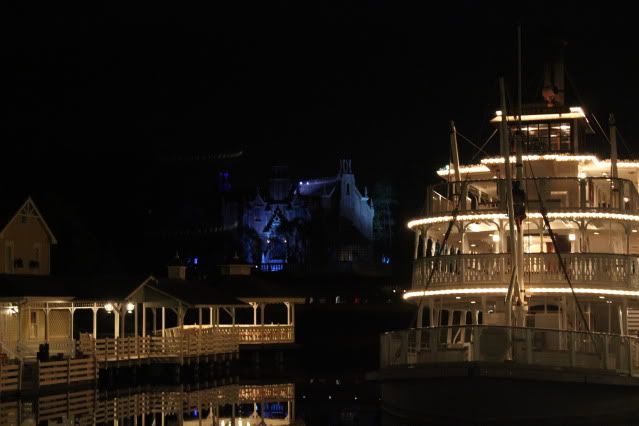 My favorite view in MK ~ The Riverboat, Tom Sawyer's Island & the Haunted Mansion!
We love Big Thunder Mountain Railroad and we've tried it in the heavy rain (a really, really fun experience, but the rain can hurt, lol.), and we've ridden it with our eyes closed (yes, our eyes closed the WHOLE TIME!) .
Try it next time ~ I dare you! It's a whole NEW experience!!!
It's A Small World ~ You either Love it or you Hate it. We love it!
One of my favorite times to be on the mountain is right after the nightly fireworks, Wishes, ends.
The smoke from the fireworks covers the track and landscape like a fog and it's creepy and different. It's really awesome, I can't describe it. Maybe you'll luck out and be on the coaster after the fireworks end and you'll get to experience the "foggy" mountain too!
Gosh, I have so many incredible memories, more detailed and unique now then they were when we visited on a Disney World Vacation. I guess it's because we've been SO many times that we have been able to experience the many different attractions in so many different ways.
It is definitely something that makes our time there more special though, and I'll never, ever forget any of my Disney memories, from our first trips to our weekly trips ... they are ALL wonderful, unique and Magical ~ just like the first time!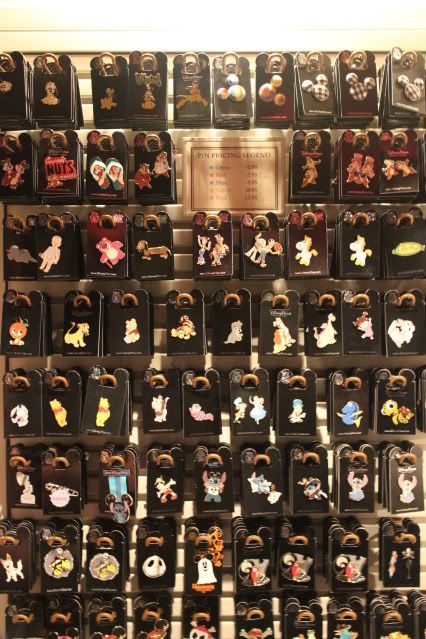 A Selection of Disney Trading Pins
You may have heard some folks say that if you go to Disney a lot, or if you live there and have Annual Passes and can go all

the time that the Magic would fade but guess what?
NOT TRUE!!! The magic has not faded. Not one drop in the last 3 years. If you're a true WDW lover then you will always love it and never be able to get enough of it, like me ♥.
Return to Home Page
Return to Top of Page