The kids and I wanted to try the new interactive Magic Kingdom attraction, Sorcerers of the Magic Kingdom, so last night we went to my favorite theme park, Disney Magic Kingdom.
They were open late (or I should say early) until 12am, with extra magic hours for Disney World Resort Guests until 3am!
Sorcerers of the Magic Kingdom Map
Upon entering the park we headed over to the old Firehouse on Main Street and got in line. There were about 5 people in front of us and it was about a 10 minute wait.
-->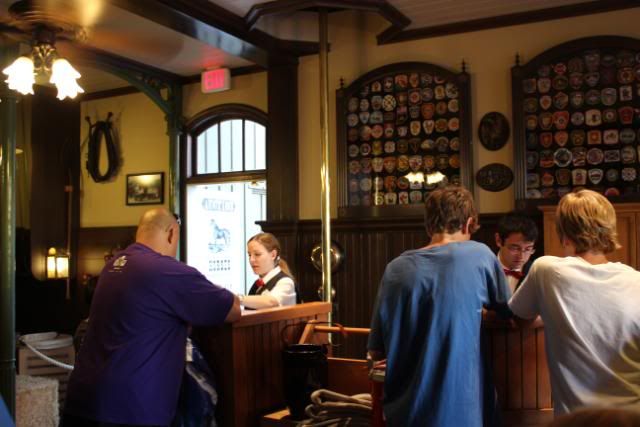 Cast Members at the Firestation on Main Street giving you your Sorcerers of the Magic Kingdom suppiles
Once it was our turn we were directed to a CM. We had to show our park tickets to the Cast Member to get started, it's required, so make sure you have them before getting in line. They actually link your park ticket or annual pass to your portal key card!
☺ ♥ ☺ ♥ ☺ ♥ ☺
*TIP*
If you're going to be staying together in a group, going to the same areas of the park together, then make sure to have your game set up as a group. You will still each get your own cards and Portal Key, it will just keep you all in the same areas on your quest, and not send each person in your party to a different land and split your group up.
♥ ☺ ♥ ☺ ♥ ☺ ♥
In the game you are given a pack of 5 random cards (think trading cards like Pokemon), a Portal Key card and a map.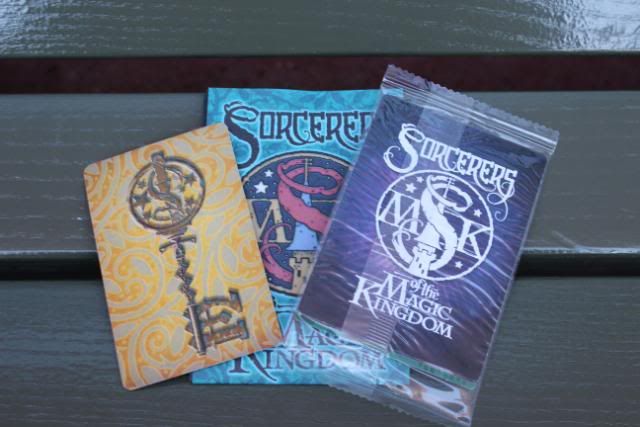 Sorcerers of the Magic Kingdom Portal Key, Map, and Playing Cards
The Cast Member goes over the game play with you and gives you some basic tips and sends you out to start your quest.
Portal
As soon as we left the Firehouse we went over to a bench to open our card packs to see what we got. We were immediately approached by an older couple from Canada that asked us if we had any "trader cards", or extra cards for trading.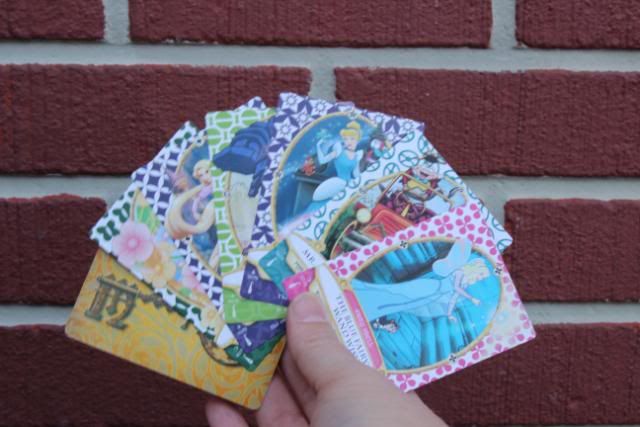 My portal key and 5 character spell cards
We told them it was our first time playing and it was our first deck of cards. Apparently you can get 1 pack of cards PER DAY.
Zarius ended up trading his Tinker Bell card to them for a Wall-E card, which made both parties happy. They were getting ready to head home and wanted to complete their collection. They had all of their cards in a card binder and a list of the ones they needed.
There are 70 different cards in all ~ so collecting them all is quite a chore!
After speaking with this couple (and our experiences the rest of the night) we quickly learned that this new "game" would become very fun and addictive to a lot of guests of all ages, young and old.
Main Street Fire Station - Home of the Sorcerers of the Magic Kingdom
The great thing about this game is that you don't need all the cards. You only need the 5 you start out with. You don't need to be a collector, unless you want to.
We're still getting the hang of the game and I'll post updates here as we play more. We're actually going back to Disney Magic Kingdom the day after tomorrow just to play the Sorcerers of the Magic Kingdom some more!
To play you scan your Portal Key card and hold it in front of a key symbol in special places throughout the park.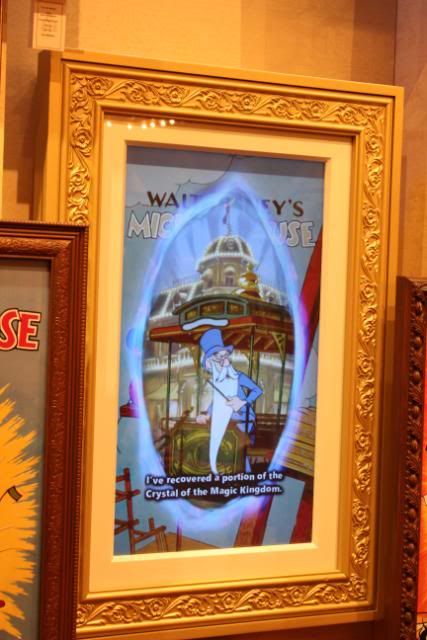 Portal in a store on Main Street
It's like a scavenger hunt, there are multiple portals in the lands and you have to walk around and look for them and find out which one you're supposed to be using next. The only land that does not have a portal is Tomorrowland.
You follow the directions given to you by Merlin during one of the interactive "shows" you watch after you've scanned your Portal Key.
There is a story, complete with villains and you must cast spells (use special attacks), with your cards to defeat them.
This is where having more cards comes in handy. For actual game play some say having more cards is better because you can use combinations, like two cards in a row.
For example, someone at the Main Street Jewelers told us that one of the funniest combinations is Pumbaa and Merlin, because Pumbaa has a gas attack and Merlin has a fire attack. Combine gas and fire and .... well, you get the point ☺.
Portal on Main Street, telling you to Cast a Spell (use a character spell card)
The game gets more difficult and challenging the more you play it, which keeps it new, interesting and fun!
If you have a Florida Family vacation or Walt Disney World vacation planned make sure to play the Sorcerers of the Magic Kingdom game when you go to Disney Magic Kingdom!