Happy Sunday and Happy Earth Day!!!
Today is a bright and sunny Florida day! After the storms the last couple of days it's a nice welcome.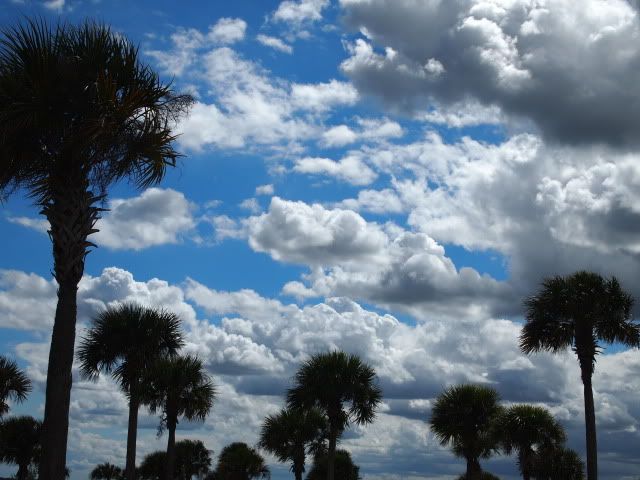 The skies are extra blue, and the clouds extra white and fluffy due to the storms.
Today was a lazy day at home, doing laundry, going grocery shopping and playing games.
I love Publix ~ it's a great grocery store. I remember before we moved here, we always looked forward to Publix to buy their breakfast bread (so yummy!) and their subs. Boy are their sub sandwiches good!
Their weekly sales are good, the employees are always nice, and it's neat seeing cast members there shopping, lol. Where else can you see that sight?
We just finished playing a game on the Wii. Mario Party 9. It's super fun, and a great game for the family. It's for up to 4 players and plays pretty much like a board game, but it's filled with little surprises and mini games which are so fun.
We have all the Mario Party games for the Game Cube and the Wii, and it's fun to mix them up and play the different ones.
-->
Tonight we're going to have family movie night. I'm not sure which movie we'll be watching, but I'm looking forward to it.
We had planned on going to the MK last night for EMH but we didn't, because of the bad storms and tornado watch.
It's okay though, we decided to get Monday's work done last night, so we could take the next few days "off".
Tomorrow and Tuesday we're headed to Disney World for daytime fun. It's going to be sunny (perfect for taking pictures!) and not too hot (low to mid 70's instead of 80's).
We haven't decided exactly where we're going, Disney Hollywood Studios, Epcot, Downtown Disney, and the Boardwalk (Beaches and Cream!) are some of the candidates.
If you have any suggestions, please leave a comment below! We'd love to hear them☺.
Wherever we go, we'll be sure to take lots of photographs and share them here with you, along with our adventures.
I wish everyone a wonderful rest of the day, and a great week!
Until next time, take care ☺.
Thanks for reading our Disney Blog! We update daily with new posts so please Follow Us to stay Up To Date!
♥ ♥ ♥ ♥ ♥ ♥ ♥ ♥ ♥ ♥ ♥ ♥ ♥ ♥ ♥ ♥ ♥ ♥
Please Check out our Website for more detailed information on Walt Disney World Resorts.
http://www.Explore-Disney-Resorts.com.xml
http://www.livingdisney.co.xml