Dole Whip, Avenger Monorail, Cotton Candy and a quiet night in Disney Magic Kingdom
Zarius and Mahnara on the tram last night
We got to the Ticket and Transportation Center (TTC) a little before 10pm and by the time we got to the Ferry dock Wishes was just starting.
We got to watch the fireworks while we waited for the Disney boat, which was a nice little treat.
I didn't have my Canon with me, just my cell phone so please excuse the poor photo quality.
When we approached the ferry dock we saw a large crowd and thought it was a huge line going over to the MK for the extra magic hours.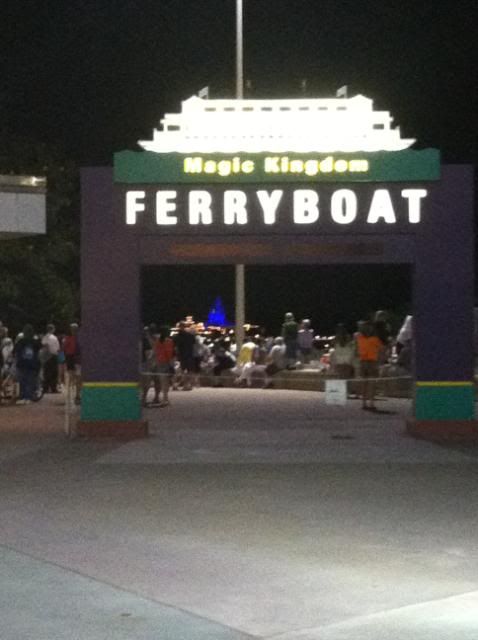 Crowd at the ferry dock
But it was just guests who were on their way out, who stopped to watch Wishes from across Bay Lake.
It actually makes a very nice viewing spot, and when the fireworks are over, you can leave easily and beat the crowds.
People watching Wishes from the TTC
There was hardly anyone going over to the MK ~ they were all leaving. There was probably about 10 of us on the ferry, it was empty.
We had a beautiful ride over to the Magic Kingdom. It was cool outside, and windy! It felt great to be on the water. We even got an up close view of the Electrical Water Pageant in front of Disney Bay Lake Tower and the Contemporary!
Electrical Water Pageant on Bay Lake
We were like fish swimming up stream, going into the park while so many people were coming out. Wishes has just ended and there were TONS of people leaving to go back to their Disney resorts.
It was about 10:15 by this time so headed over to the Main Street Fire Station to get our Sorcerers of the Magic Kingdom cards for the day. I still didn't get the two I need to complete my collection of cards 1-60 :(.
We went through a few shops to trade some Disney lanyard pins. We always keep our eyes open for nice Disney pins. We love to pin trade!
Visit our Facebook page dedicated to pin trading! We sell 100% guaranteed Scrapper Free Disney pins!
Elizabeth using the telephone
After we opened our cards and the kids put the ones they needed in their binder we headed to Cinderella's Castle.
It's usually closed off when we arrive at night, due to the fireworks, but tonight we got to walk through it. It is so very magical and beautiful, and I never tire of seeing it.
Once we were in Fantasyland we played SOTMK. Amy and Zarius had villains to battle there. It was around 11pm and there was hardly anyone in the area.
After we finished with the portals the kids rode the carousel many times. They were allowed to just stay on which made them very happy.
It was their only ride of the night because MK closed at midnight. The park was open until 3am, but unless you're a guest at one of the Walt Disney World Resorts you can't ride any attractions
.We were totally fine with that though, we were there for other reasons.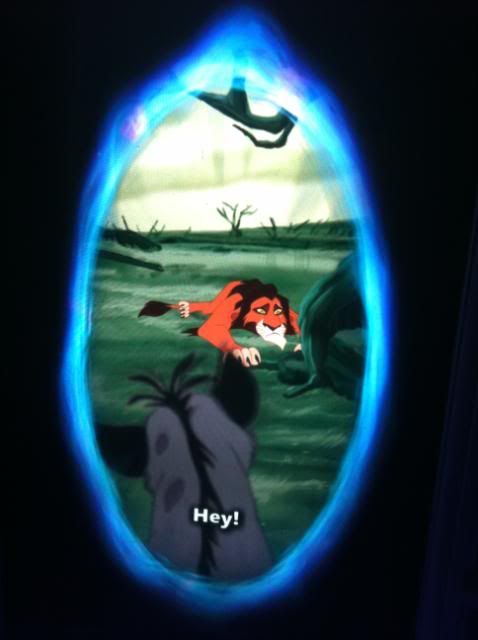 Sorcerers of the Magic Kingdom Portal in use
When we were done we headed over to Liberty Square where I had portals to go to.
We quickly finished up there as it was empty, and we headed to Adventureland.
Man there was no one there! I felt like we had the park to ourselves! There were only a few people here and there, and it was quiet and peaceful.
I have to wonder how Disney can make any money during EMH. Most shops and restaurants close at midnight and there are not many people there. If you are a guest at a Disney resort you could ride most attractions in the MK in the 3 hours of extra time they give you!
I realized then that the money they make stems from the resorts. Having the EMH is an incentive for people to stay at their resorts, on property. It really is a nice benefit ♥.
One of our favorite Disney Dining counters was open so we just had to get a ...
The infamous Pineapple Dole Whip Float!!!
It's pineapple juice with pineapple soft serve. It's famous in Disneyworld, and they even make T- Shirts in honor of it!
Zarius and his Dole Whip
Our whole family loves Dole Whip, who doesn't?!?
Mahnara and her Dole Whip
We enjoyed our treat and finished battling the Villains at the portals in Adventureland, and then headed back to Main Street U.S.A.
It was almost 2am and we were done playing for the night.
We stopped in front of Crystal Palace to enjoy the gorgeous castle. They were playing music and the lights on the castle were changing quickly, along with the music. Next thing we knew, the castle was covered in big polka dots! I had never seen that before, very neat!
A peaceful morning in the MK
We went across the street to the candy store, the Main Street Confectionery. They were making fresh cotton candy and the CM gave us samples!
They were huge samples!!!
There were two CMs in the street making art with water and their brooms. Very neat!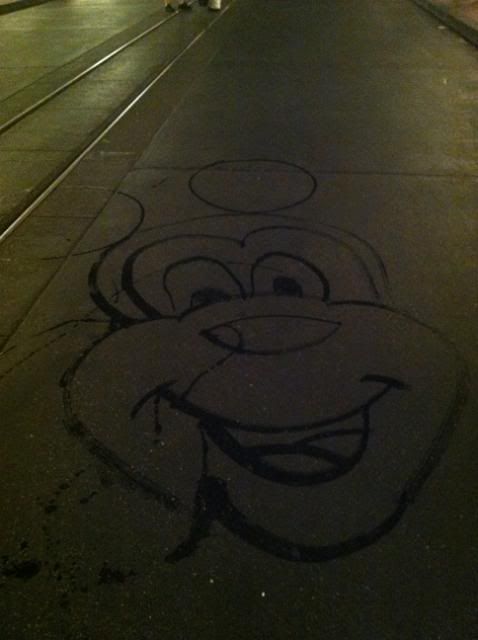 Mickey Mouse!
I just love the Magic Kingdom in the early morning hours. It's so magical and peaceful ♥.
A quiet Main Street
To me it feels as if it's my personal magical place. I can take the time to relax and reflect, and truly enjoy the beautiful atmosphere.
I strolled down this pretty little road, that is usually very crowded during the day.
I was the only one there. There were birds chirping, and it was lit up by all the lights. It was gorgeous.

It was just so very beautiful and felt to special to me.
I stayed there awhile and just enjoyed it. Enjoyed being in the Magic Kingdom. Enjoyed being here in Florida. Enjoyed being able to enjoy the magic of Disney all the time.
I thought about what it used to be like to visit WDW once a year. To constantly think about WDW, and dream about WDW, and want to go there so badly all the time.
To never have enough of Disney World.
And now I can. I have. I have enjoyed Disney World so many times and ways over the last 3 years. It has never grown old, never lost it's magic to me, to us.
Each time I visit I feel like a guest. Like I did when I was on vacation here. In wonder and awe of it all, and surrounded by the magic.
That magic has never faded, and never will, and I know one of these days, when we leave Florida onto our next big adventure, I will truly miss this place, for it's been mine to enjoy.
I finally pulled myself away from the quite and special spot. It was time to go home so we hopped on a monorail.
We were the only ones in our monorail car, which was a nice change. We didn't get the new Avengers monorail, that one was on the Epcot route.
We did see it when we got off at the TTC though! It was docked there while it was being cleaned.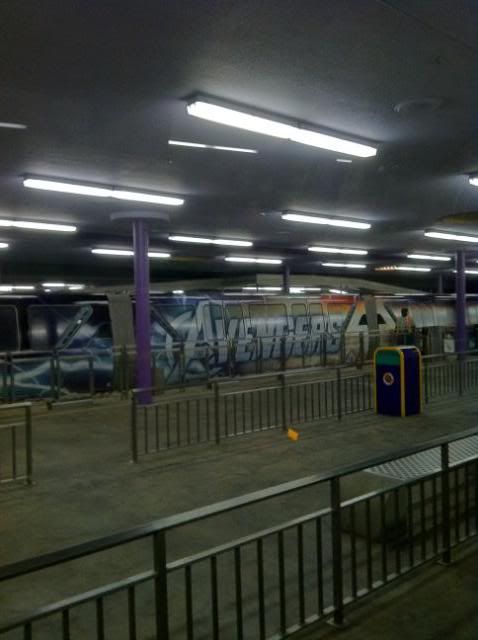 Avengers monorail
It was awesome. I just love the themed monorails The Tron monorail, or Tronorail as we liked to call it, was really cool. My favorite though, was the monorail they made for Halloween in the past. That was cool!
ourdisneylife