Flashback Day is a day I will dedicate my Disney Blog post to our story of Moving to Walt Disney World Florida!
I kept a journal, complete with pictures of our move to Florida and I'm going to share it all with you here!
-->
It starts 4 weeks before we moved to Florida, back in 2008, when we were in Asheville, N.C. and decided to make our Dream Come True by moving to to the Walt Disney World Florida area!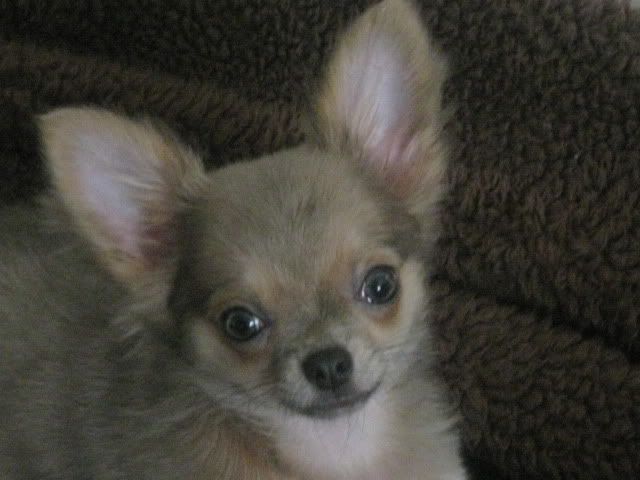 Zara - Trevon's long haired chihuahua, when she was a puppy
Journal Entry Date: 12/7/08
Title: It's Official! We're Moving in 4 Weeks!
Journal Entry:
Today is the last day we're going to relax and do nothing before the move.
Starting tomorrow it's going to be non-stop packing and transferring items to storage, organizing and sorting.

There is so much to do before the big move, and hardly enough time to do it!
It's even harder because we aren't going to be able to take any time off from work. All of our pre-move work and errands must be done during our evenings off and the weekends.

Here is my list of what I have to do in the next 3 weeks:

Get well checks for Nara and Zar
Me go to the family doctor and eye doctor
Amy go to the doctor and eye doctor
Trevon go to the eye doctor
Mahnara and Zarius go to the eye doctor
Get replacement SS cards for me and the kids (lost them!)
Re-paint two bedrooms and a bathroom (we painted them blue and purple ☺)
patch the walls and repair some stuff (We have lived here for over 4 years)
Get the carpets cleaned (once yearly anyway)
All that on top of packing
If we get a place before we move I can do an address change before we leave NC, if not, I'm not sure what to do.

It looks as though we may skip the u-haul. We don't really own a lot of furniture, just a few dressers, recliners, table and chairs, bookshelves, television, and lots of clothes and toys and misc. items.

I think we may leave the furniture in our storage trailer since the house will be furnished and just take clothes, games, dvds, some toys, computer, tv, pictures, and stuff like that.
Mom and dad are going down to Florida with us because dad has a Proton Therapy cancer treatment in Jacksonville on the 9th and we're leaving on the 5th.
They have volunteered to take all the seats out of their Sienna van and let us fill it and put a soft carrier on top.
We will stuff our Sienna too and put a carrier on top and a bike rack on back. I think we can get lots in the vans and anything we really want that doesn't fit they can bring down the next month when they come and visit us.

I need to get a Fl. driver's license pretty quickly so I can buy Walt Disney World Annual Passes!!! (Boy, do I love the sound of that!)
I love the weather and lack of crowds in Jan. at WDW so I'm very excited about moving there this time of the year ☺.

On top of all the "work" we're trying to do as many things around Asheville as possible on our free time (what free time right? lol)
Today we're going to go to Greenville, SC, and play at the super cool park at the Greenville Zoo that we'll really miss, and then check out the festival of lights.
So much to do ... so little time ...
Thanks for reading our Living Disney Blog! We update daily with new posts so please Follow Us to stay Up To Date!
♥ ♥ ♥ ♥ ♥ ♥ ♥ ♥ ♥ ♥ ♥ ♥ ♥ ♥ ♥ ♥ ♥ ♥
Please Check out our Website for more detailed information on Walt Disney World Resorts.
http://www.Explore-Disney-Resorts.com.xml
http://www.livingdisney.co.xml
☻ ☺ ☻ ☺ ☻ ☺ ☻ ☺ ☻ ☺ ☻
disneymove