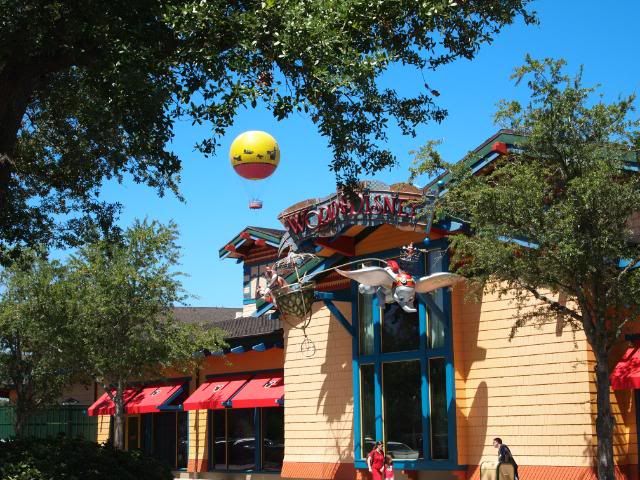 Downtown Disney Marketplace
One of my favorite memories of past Walt Disney World vacations are of visiting the Downtown Disney Marketplace and the Ghirardelli store there.
Each year when we came to Disney World we would be sure to spend at least one evening or day at Disney Downtown ~ shopping, trading pins, eating and of course ... visiting Ghirardelli!
Ghirardelli
It's a pretty well known fact and Disney Tip that you can walk into Ghirardelli and get a free sample square of chocolate. There is always an employee with a basket full of chocolate (the kind of chocolate given out daily varies), eager to hand you a piece when you walk into the store.
Lots of people go in just for the chocolate, and that's totally fine. It's a fun thing to do at Downtown Disney.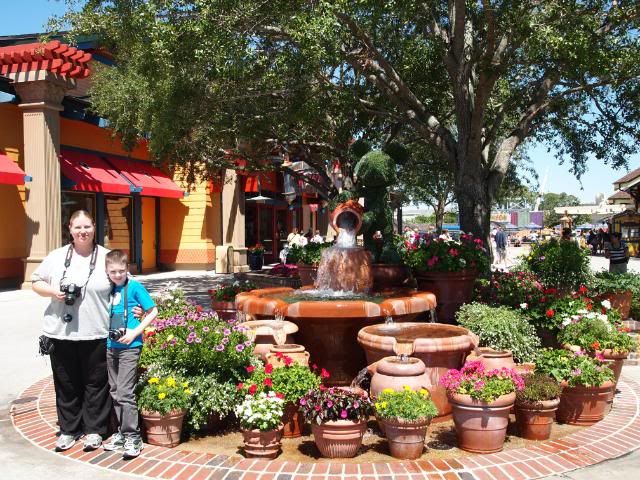 Me and Zarius at Downtown Disney 4/12
I am a firm believer that samples work. Lots of times I would never have known how good something was if I didn't try it first, and I'm the type of person that buys what I like when I've tried it, and tells others about it too.
The Ghirardelli store lures you in with it's incredible smell of waffle cones and sugar. It's hard not to enter the store with the tempting smells permeating the air outside. They know how to bring in the customers, that's for sure☺.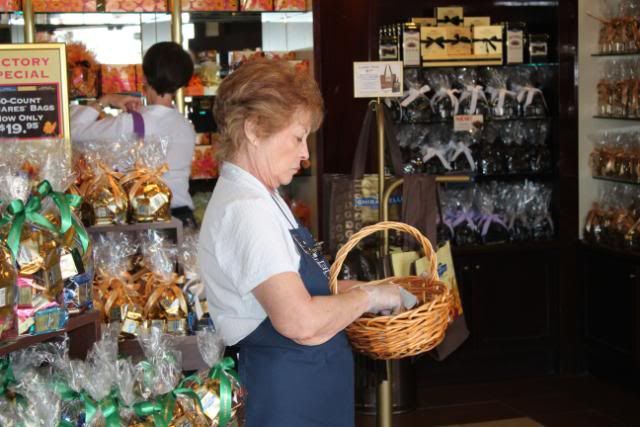 Chocolate Samples!
You can get the chocolate samples in the main store, the Ghirardelli Chocolate Shop. They are usually chocolate filled with caramel, but we've had peanut butter squares in the past, and another flavor or two.
During the fall you might even get a sample of the Pumpkin chocolate, and during the Christmas season (and quite a while afterwards, until they run out), you will always find the peppermint white chocolate squares being given out.
The shop serves espresso drinks and regular coffee. They also serve specialty hot chocolates, along with regular hot chocolate.
They also offer chocolate croissants, which are delicious heated with a cup of hot chocolate or coffee, and various pastry items, along with all kinds of chocolate for sale! They have large bags of chocolate squares, candy bars, hot cocoa mix, and specialty chocolate products and items as well. It's a great place to pick up some gifts for your friends and family back home, as long as you can keep it from melting in the Florida heat!
Trevon surrounded by chocolate!
In the adjacent store you'll find the Ghirardelli Soda Fountain. They offer specialty sundaes, ice cream by the scoop, shakes, floats and other chocolate treats.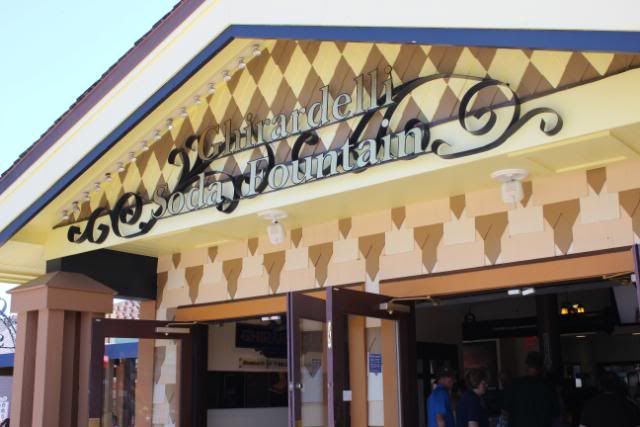 Ghirardelli Soda Fountain
The lines in the Soda Fountain are always pretty long, but worth the wait. There are seating areas inside and outside the shop, so you can sit and enjoy the atmosphere and your desserts.
When I'm in the mood for a treat I go to the chocolate shop to get a Ghirardelli Classic Hot Cocoa with whipped cream. It's SO good!
After I got home from vacation years ago, after trying their hot chocolate for the first time, I was hooked. Since then, no other hot cocoa will do. Luckily they had the Double Chocolate hot cocoa mix in Asheville at my local grocery store (Ingles), but unfortunately they didn't have it around here when we moved to the area.
It was okay though, because I just bought it in the chocolate shop at Downtown Disney, and as a perk I got a passholder discount!
*TIP*
You can use your Annual Passholder Discount on food and merchandise purchases at Ghirardelli in Downtown Disney Marketplace and get 10% Off!
A couple of days ago when we spent the afternoon at Disney Downtown we stopped in for a chocolate sample and took a look at the menu.
I was thinking about trying their Sea Salt Caramel Hot Cocoa for the first time.
Sea Salt Caramel Hot Cocoa
I noticed an brand new menu item ~ the Lombard Street Hot Cocoa.
Sea Salt Caramel Hot Cocoa
I decided to give it a try so I could do a little review of it here on my Disney Blog for you all. It's a tough job, but someone's got to do it☺.
It was quite a fun and interesting experience, and I'm glad I tried it.
The Lombard hot cocoa is basically a very hot cup of milk given to you along with 4 chocolate truffle squares.
Lombard Street Hot Cocoa
Chocolate Truffle squares are milk chocolate with a truffle filling.
You drop them in the hot milk and stir. They melt right away, and it's not clumpy or slimy, don't worry.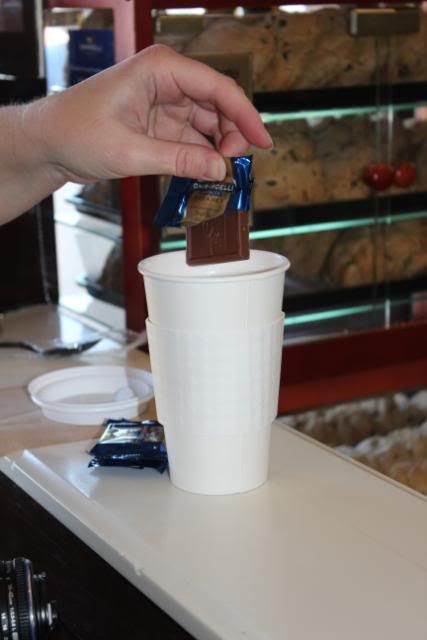 Putting the chocolate into the milk
I stirred in the 4 chocolate squares and tasted it. It tasted like warm milk, lol. Barely a hint of chocolate. Those 4 squares were not enough to give it a good chocolate flavor.
The chocolate melting (it melted quickly!)
This cup of cocoa definitely was not rich at all, it was barely even chocolatey!
I nicely asked the employee if I could get another square of chocolate and she gladly gave me 2, which made the drink just right.
The finished product ☺
The cup was tall, and it took 6 squares to make it taste like hot chocolate. It wasn't very rich, as I thought it might be, and honestly I didn't care for it too much.
-->
I definitely prefer the classic hot cocoa, but I am glad I tried it, although I won't be buying it again.
I may try it making it at home one of these days, with dark chocolate Ghirardelli squares. That sounds good doesn't it?
Have you visited Ghirardelli at the Downtown Disney Marketplace on your Walt Disney World Vacation?
What is your favorite drink or treat from the Chocolate Shop or Soda Fountain?
We'd love to hear your comments and experiences!


Thanks for reading our Living Disney Blog! We update daily with new posts so please Follow Us to stay Up To Date!
♥ ♥ ♥ ♥ ♥ ♥ ♥ ♥ ♥ ♥ ♥ ♥ ♥ ♥ ♥ ♥ ♥ ♥
Please Check out our Website for more detailed information on Walt Disney World Resorts.
http://www.Explore-Disney-Resorts.com.xml
http://www.livingdisney.co.xml