We went to Disney Magic Kingdom the night before last to play Sorcerers of the Magic Kingdom.
We hadn't played in 2 weeks so we were excited. During that time the kids decided that they wanted their own spell card binder.
We had originally only had two trading card binders for our sorcerer spell cards, 1 for Trevon and 1 for the rest of us.
After playing awhile the kids decided that they wanted their own set, so we got 2 more binders for the Sorcerers of the Magic Kingdom cards.
Here is a picture of the kid's Sorcerer of the Magic Kingdom binder.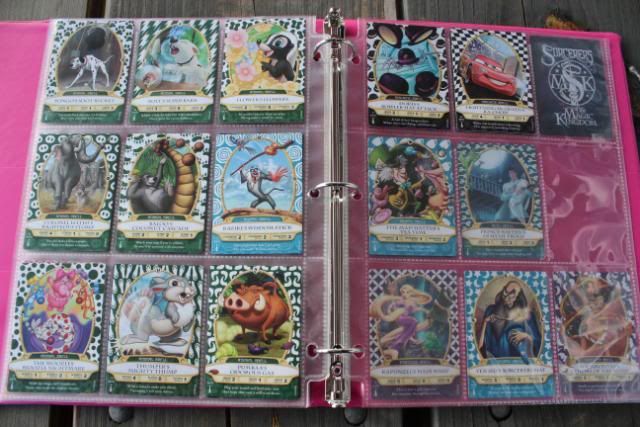 We purchased the binders at Sams Club in a pack 4 for under $10.00. They are 1" so they are not too thick, and easy to carry around. You can also get them at Target, Office Depot, Staples, Walmart, etc.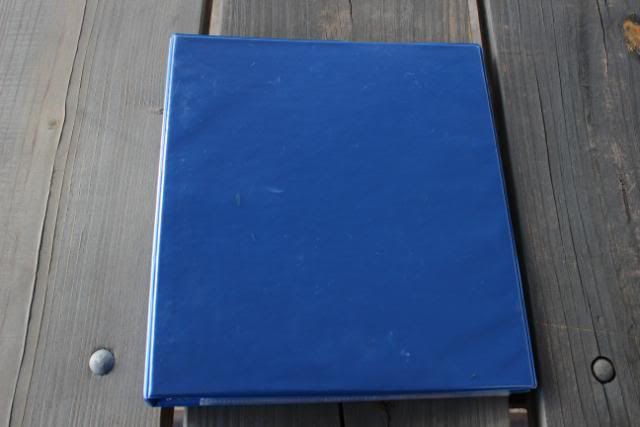 We got the trading card sleeves from Target. They probably have them at Walmart too, and they have them at Comic Book stores. They run about $5.00 a pack, and come with around 35 sheets.
We only put 6 cards on each page, although each page actually holds 9 cards on each side.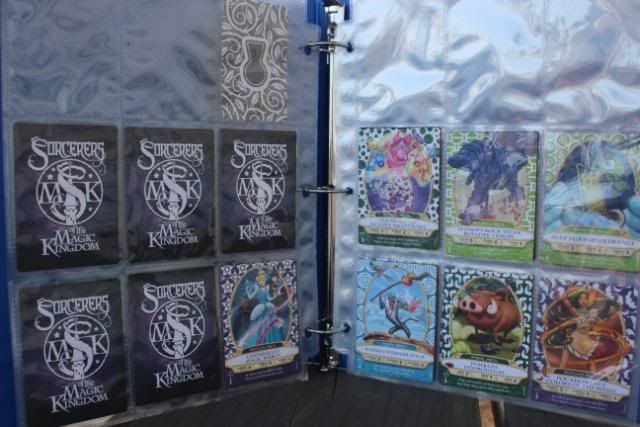 We set it up that way to make it easier for the kids to use their spells. You can use up to 6 cards at a time, which helps to work up characters and to use your spell combos, so putting 6 on a page made it easier for them.
Like us, the kids also organized their cards into sections based on what combinations they like to use.
We got to Disney Magic Kingdom around 10:15pm. They were closing that night at midnight, and it was EMH (extra magic hours) until 3am for Walt Disney World Resort guests.
The Sorcerers of the Magic Kingdom office in the Fire Station on Main Street closes an hour before the park does, so that night they were closing at 11pm.
We went there first to get our sorcerer spell card packs, and to have our games set back to the beginning, on easy.
We were almost done with the first level, and didn't want to be stuck there after the Sorcerers of the Magic Kingdom office closed at 11.
I asked the CM (cast member) to put us all on easy, from the beginning, in the same land. I understand that you can't go to the same portals as each other, that the portal you get to go to is random, but you can stay in the same land together if you request it.
She assured me all was well when I asked, and I hoped it was because their office was closing in a few minutes!
We were planning on staying for the EMH, just to play the game, and to shop and eat and hang out, and I didn't want to have a problem and not be able to have it fixed.
I really don't know why the SOTMK office closes so early. It is an attraction and therefore should remain open during all park hours. That's how I feel about it at least.
She gave us our cards, and I asked her again to make sure that all cards were on easy, on the first level, back at the beginning of the game, and in the same lands.
She didn't seem like she really knew what she was doing ...
She scanned each card and verified that they were all where I asked them to be. We were all to head to Fantasyland.
The crowds were headed out ~ we were headed in.
Once we got to Cinderella's castle the crowds had thinned out and we took a moment to enjoy it. It's so beautiful ♥.
We went through it and went to a portal to get started. If you scan your portal key at any portal it will tell you if you're in the right spot or not, and if you're not, it will tell you where to go.
Well, 2 of us were in the right land, Fantasyland, and 3 of us weren't :(.
I looked at my phone for the time. It was 11:03. Needless to say I was frustrated. Too late to do anything about it now!
I don't understand what the problem was though. She supposedly scanned all the portal keys to make sure we were headed in the same direction and could stick together.
Now here we were with 2 players in Fantasyland, one supposed to go to Liberty Square and Frontierland and the other two to go to Adventureland to battle villains.
We didn't want to split up, so we started in Fantasyland. Luckily Fantasyland was empty, and we completed our quest within a very short amount of time.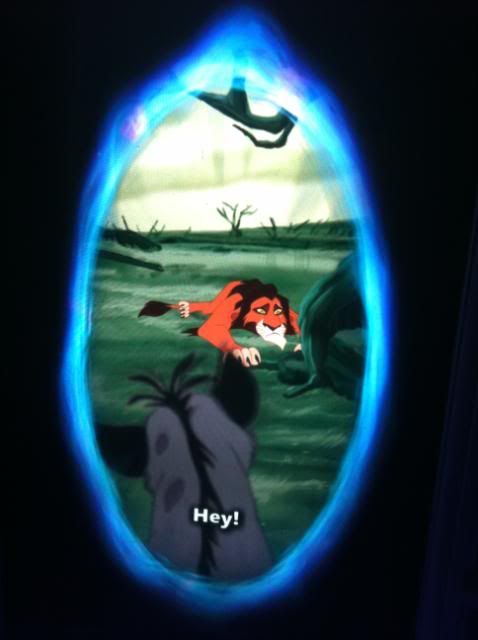 We then headed over to Liberty Square, then Frontierland and then Adventureland. By the time we got to Adventureland it was around 1am and Tortuga Tavern was closed for the night.
I had no idea they locked it up after the regular park closing time. Since it was closed we couldn't do our portal there, so we'll have to start there again next time (which will be tonight)☺.
By 2am we had all finished and had hung out and enjoyed the park. We didn't ride any rides after midnight, that is a privilege reserved for Walt Disney World Resort guests only during EMH.
We sure did have fun though!
We traded a few cards with other guests. You have to watch out, because some people will try and take advantage of you.
They will ask for multiple cards from you, for their 1 card. They will try and give you a common card for one of your rare cards, etc.
They will tell you it's the last one they need to complete their set (and sometimes it's true, but sometimes it's not). I see children doing that a lot, and once, the first night we had ever played, I had a child of about 10 tell me how to get all the star cards I need. He told me to do what he does, and bamboozle people for them. I was appalled. He told me all about how he did it, how he took advatage of other people who had no idea about the game, or the special cards.
I had about 4 kids tell me that line the other night. That they just needed this one card (always one of the hardest to get, like the Apprentice Mickey Mouse card) yet they had tons and tons of cards with them.
I don't mind helping someone out, but if it's my only card I really don't want to part with it. I learned that early on when I gave a child my King Triton rare card because they were leaving and it was the last one he needed.
I figured that I live here, we get 25 cards between the 5 of us each time we visit, which is usually 2 or 3 times a week. I can get another one, they can't.
Well, I still haven't gotten another one, lol. None of us have.
It's okay though. I truly believe that the child needed it. His parents were there and even took a picture of their child with our children holding their cards. It was sweet and special, and they were truly happy so I'm glad I did it ☺.
Some people really try and pressure you over trading cards that they want from you, or try to make you feel guilty about not giving them a card they want.
Just keep in mind that it's fair to trade like cards for like cards. Trade a star for a star, a common for a common. It makes it easy that way, and is fair because you do only get one rare star card per pack, per day.
There are lots of nice folks out there playing Sorcerers of the Magic Kingdom, and that's one of the things I love most about spending time at Disney Magic Kingdom playing it. Meeting other nice people who enjoy the game and trading with them sometimes.
The other night a very nice couple traded a common card with Zarius and it made him very happy. Since he's just staring his own set he only has about 20 of the 60 cards.
It's fun to trade your extras and help others complete their sets, and in return add to your collection and work towards completing your own set.
Mahnara was trading with a nice man and he didn't need any of the cards we had extra so he just gave it to her. It was so special and magical ~ and that's what Disney is all about!
It was very nice of him, and I've done the same thing in the past for other kids and adults. I truly believe what goes around comes around, and I like to have good karma in life ☺.
It feels great to give, and if you find yourself with a huge pile of extra Sorcerer of the Magic Kingdom cards and nothing to do with them, spreading the magic a bit by being an easy trader, or giving a child a card they really, really want or need is an easy and rewarding way to do it ♥.