We went to Disney Magic Kingdom so we could try something new at the Plaza Ice Cream Parlor!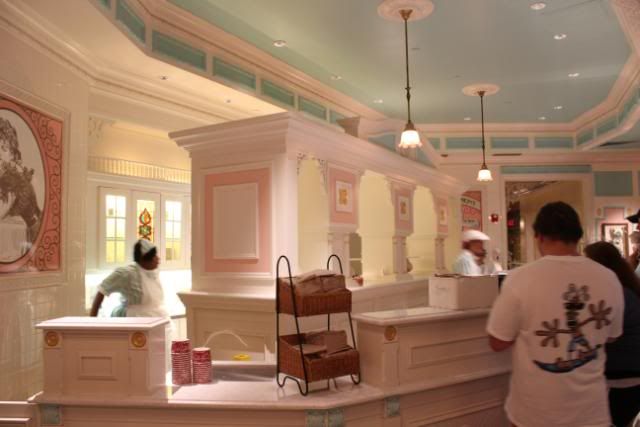 The newly refurbished Plaza Ice Cream Parlor
We were very excited to bring you news and pictures of a new product but unfortunately we aren't able to do that, because there was none!
I read on a reputable WDW internet website that the Plaza Ice Cream Parlor had opened from it's refurbishment early, and was offering a brand new menu item, Gourmet Hot Cocoa.
Zarius and Mahnara on the Ferry Boat on their way to the Magic Kingdom
It was supposed to be 70% Valrhona Cocoa topped with whipped cream and chocolate shavings. It was also supposed to come in a souvenir mug and be $5.99. Well, I love hot cocoa, (the real stuff, not Nestle) and I was very excited to try it.
I love Main Street at night!
We got to the Magic Kingdom and made our way through the crowds to the Ice Cream Parlor. I looked on the menu for the new item as I was waiting, so I could take a picture of it, but I didn't see it. That didn't necessarily worry me though, because sometimes new menu items don't get added right away. I did think it was odd though because the ice cream parlor had just been refurbished and everything should be up to date.


-->
Well, when it was my turn I asked the CM about it and she looked totally confused. She told me that there was no such thing, and for me to check next door at the Bakery.
Main Street Bakery
We headed over to the Main Street Bakery and I waited in line to ask a CM there. Guess what? No Gourmet Cocoa :(. Only Nestle.
What a bummer! I was excited about the cocoa. It would be a great product to offer at the MK. The only other place in Walt Disney World you can get real, good, hot cocoa is at Downtown Disney, at Ghirardelli.
Docked Ferry Boat
I went back over to the Plaza Ice Cream Parlor one more time (after checking that website on my phone again, to verify the information). Supposed to be there ... asked another CM ... "No, sorry."
So, no cocoa, sorry!!! It would have been a nice update on a new product. Maybe it was released on the menu but then pulled. Who knows. I'll keep checking back to see if it appears and if it does, I'll buy one, try and it, take lots of Disney pictures of it, and share it with you here ☺.
A view of Cinderella's Castle at the end of Main Street, U.S.A.
I didn't want to totally disappoint you though, so I did take some pictures of the ice cream parlor. It's very pretty and very busy, as always. I have never tried ice cream from there (I'm not a big ice cream fan), but I'm sure it's good. I'll have to buy the kids a cone and take some pictures and put it here in my Disney blog. (A hot summer day would be perfect, we have plenty of those!).
Plaza Ice Cream Parlor
I am writing this blog post to you as I hear the Magic Kingdom fireworks from my kitchen table. Wishes has started! I just love hearing Wishes from home, knowing I'm that close to Magic ♥. It never grows old and I love the nightly reminder of exactly where I am ☺.
Thanks for reading our Living Disney Blog! We update daily with new posts so please Follow Us to stay Up To Date!
♥ ♥ ♥ ♥ ♥ ♥ ♥ ♥ ♥ ♥ ♥ ♥ ♥ ♥ ♥ ♥ ♥ ♥
Please Check out our Website for more detailed information on Walt Disney World Resorts.
http://www.Explore-Disney-Resorts.com.xml
http://www.livingdisney.co.xml