We just love
interactive
Disney games and the new attraction at Disney Magic Kingdom; Sorcerers of the Magic Kingdom. It's our favorite new thing to do! We have learned a lot about it over the last few weeks, and today we'd love to tell you all about Sorcerer of the Magic Kingdom Card Combos!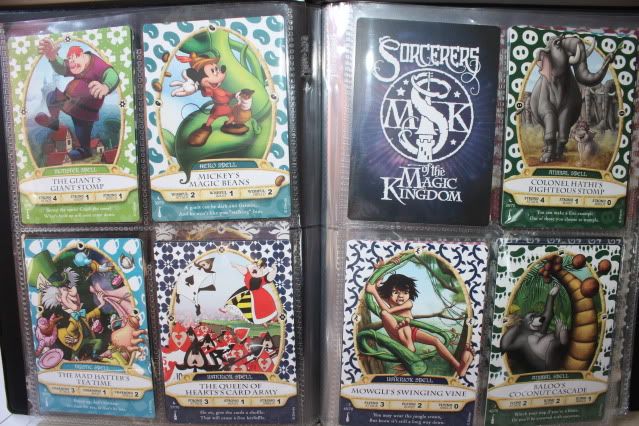 Sorcerers of the Magic Kingdom Spell Cards organized by combos
When we first began playing SOTMK we didn't even know that we could use more than one spell card at a time. We thought you just used one card each time you cast a spell.
It turns out you can use multiple spell cards when you're casting a spell on a Disney Villain!
You can use up to 6 different Sorcerers of the Magic Kingdom Spell Cards at one time to cast a spell!
In the SOTMK game you start on level one, then move up levels as you play the game and defeat the different villains.
The first level is Easy, the second level is Medium, and the third level is Hard.
In Sorcerers of the Magic Kingdom you also need to "work up" your spell cards, and make them stronger. Each character spell card gets stronger with each use!
That can be very time consuming with 70 Spell cards.
As the game progresses, the villains get tougher, and battling them becomes more challenging.
When you're on level 1, any spell card will defeat any villain, so the first level is a great time to pick your favorite combinations and to work up your character spells and cards.
We put our cards in a trading card binder.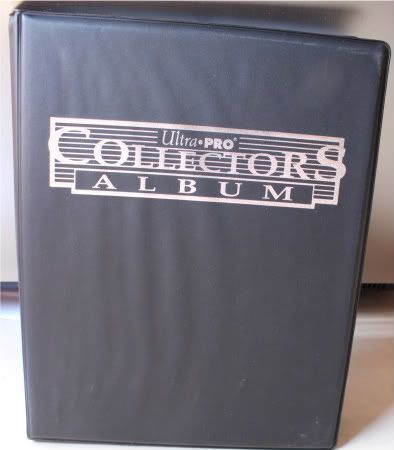 Our Spell Card Binder
At first we organized them by category. Toys spell cards, princess, hero, mystic, fairy, etc. We thought this worked OK. We just randomly used cards to see their spells.
Then, when it was time to cast a spell we held up the book (as you can see, the spell card binder holds 4 cards per page, so a total of 8 cards can go on two side by side pages), and let the camera read the cards, all 6 of them!!!
That way we were working up 6 of our cards at one time, instead of just one!
We did this throughout the first level, changing pages to give all of the characters their fair chance at being worked up.
But this method did not work up the spell cards because we used so many different ones and not the same cards over and over.
So, after we completed the first level, we went to the SOTMK office on Main Street (there is also an office in Liberty Square), and asked to be put back onto the first level, so we could start using our combos.
In Sorcerers of the Magic Kingdom, you can make card combinations with different characters that cast spells together!
We have found that characters that "go together", from the same movie, etc., work well together in combos.
For example, Price Philip and Princess Aurora from Sleeping Beauty make a great combination spell when used together against a villain.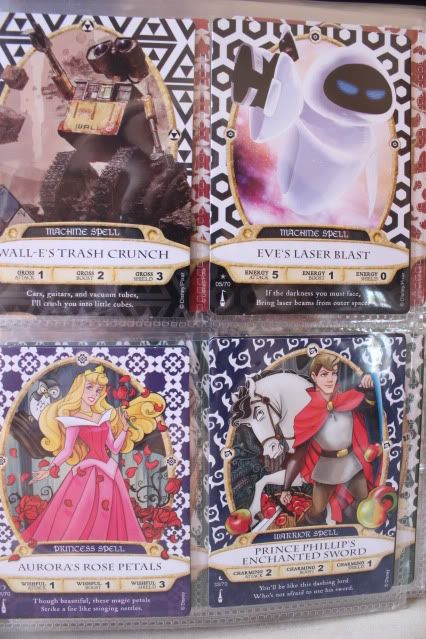 Spell Card Combos
We rearranged out Sorcerers of the Magic Kingdom Spell Card Binder and put all the cards together by combinations.
We matched up characters we thought would make a great combo, like Apprentice Mickey's Broomsticks, Yen Sid's Sorcerers Hat (did you know that Yen Sid spells Disney backwards! ☺), and The Sugar Plum Fairies Dewdrop Spiderweb. All of those characters are from Fantasia, so I figured they'd make a combination ~ and they do!
Did you know that the character spell cards don't have to be from the same movie to work together? Try out different characters together when casting a spell and see if both of their spells work.
One of the funniest spell combinations are from two characters that really don't have anything to do with each other ...
... Merlin's Fireball and Pumbaa's Odorous Gas! You can imagine the type of spell combo that may occur right? Gas and Fire ...
When you first use a combination of cards you might not notice all of the characters spells on the screen. That is because the graphics get better the more you use the cards.
Lets take Aurora and Prince
Philip again. When you first use this combo together you might only see a lot of Aurora's pink flowers. Philips sword doesn't really show much.
The more you use that combo and work it up the better graphics will show and eventually Auroras flowers will turn Gold and Philips Sword will change too!
There are many, many, combinations that can be made and it's super fun to try and figure them out. I don't want to list them all here, as that would take away the fun of the hunt for Sorcerer of the Magic Kingdom Spell Card Combos.
Sorcerers of the Magic Kingdom Spell Cards




This is a super fun Disney Game and I hope everyone plays it and try's it out while at Disney World for their Disney World Vacation.







Thanks for reading our Living Disney Blog! We update daily with new posts so please Follow Us to stay Up To Date!




♥ ♥ ♥ ♥ ♥ ♥ ♥ ♥ ♥ ♥ ♥ ♥ ♥ ♥ ♥ ♥ ♥ ♥




Please Check out our Website for more detailed information on Walt Disney World Resorts.




http://www.Explore-Disney-Resorts.com.xml
http://www.livingdisney.co.xml

☻ ☺ ☻ ☺ ☻ ☺ ☻ ☺ ☻ ☺ ☻