Sorcerers of the Magic Kingdom has turned out to be one my most favorite interactive Disney games.
I remember the first night we went to Disney Magic Kingdom to play Sorcerers of the Magic Kingdom last month.
The kids were so excited (and so was I)! They had met a little boy at one of the Disney resorts we had been exploring that day, and he had given them his map and explained the game to them with great enthusiasm.
They were so excited, and I was excited for them. It's not often we get to try or do something totally new to us.
We got to the MK that night and we all picked up our portal keys, maps and packets of cards. We were so excited to open the packs and see what they were like, and to see which cards we got.
That first night, right outside the Main Street Fire Station, a couple approached us and we ended up doing our very first SOTMK spell card trade!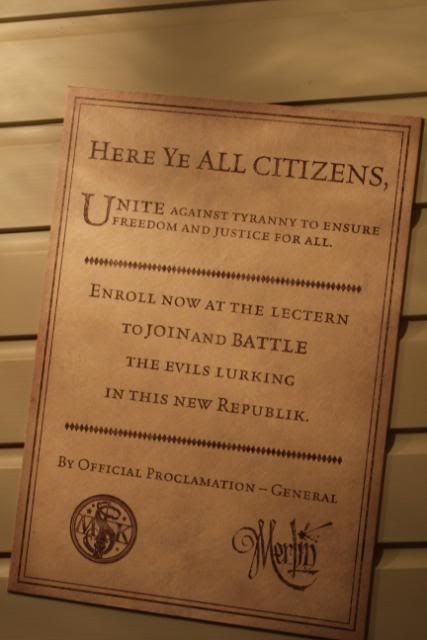 Zarius traded his Tinker Bell spell card for a Wall-E spell card, which made him, and the couple, very happy☺.
Just like with Disney Pin Trading, you can trade your sorcerer spell cards too! There are SO many people that love to play the game, and collect the cards.
What better way to help build your collection of cards 1-60, or even try to find the super rare and sought after cards 61-70?
You will find plenty of Sorcerers hanging around the portals and other locations* looking to trade cards.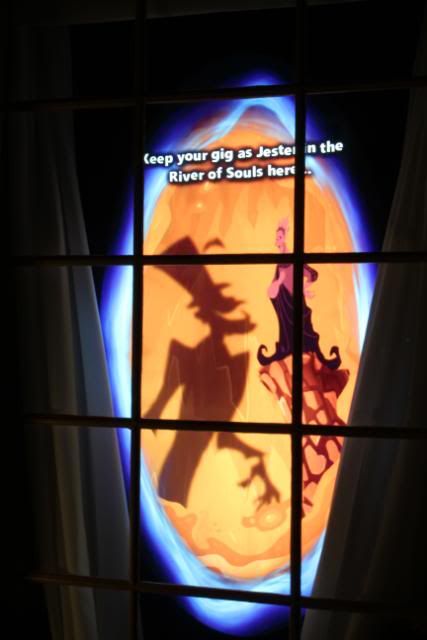 Portal in Liberty Square
*Tortuga Tavern is the unofficial trading spot for Sorcerers of the Magic Kingdom Cards.*
During the day, and after it closes at 3pm, you'll find a lot of trading going on at Tortuga Tavern, in Adventureland. They've set up their books and binders and boxes of cards and are looking for a trade. There are tables in the back of the restaurant, by the actual Sorcerers of the Magic Kingdom portal, and that's where you'll find the traders.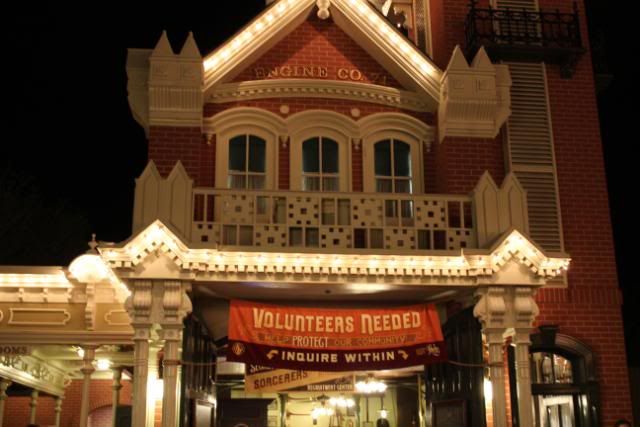 Main Street Fire Station, SOTMK headquarters
Beware though, and be very careful. Just as in any situation where you're trading a card, know what you're trading, or you may get the bad end of the deal.
You can (and will, if you're not sure what you're doing, or what cards you have), be taken advantage of. Watch out for this, from children and adults alike, "Please, it's the last one I need to complete my set!"
It very well may be, but it may not. That is THE most common line for getting those star cards from unsuspecting guests.
It's okay to trade ~ and trading is fun ~ but there are always those looking to take advantage of others.
-->
We have met many, many nice and honest traders, and we have met many, many not so nice and dishonest traders. Some old, some young, and some just children!
The best tip I can give you, if you care about doing a fair trade, and not taking advantage of anyone, or being taken advantage of, is this:
*TIP*
Trade a Like Card for a Like Card!
Spell cards are marked in 1 of four ways:
Lightning Bolt (Ultra Rare; cards 61-70)
Star (RARE)
Moon (UnCommon)
Planet (Common)
You can read more about the different types of cards, and see the complete Sorcerers of the Magic Kingdom Spell Card List below.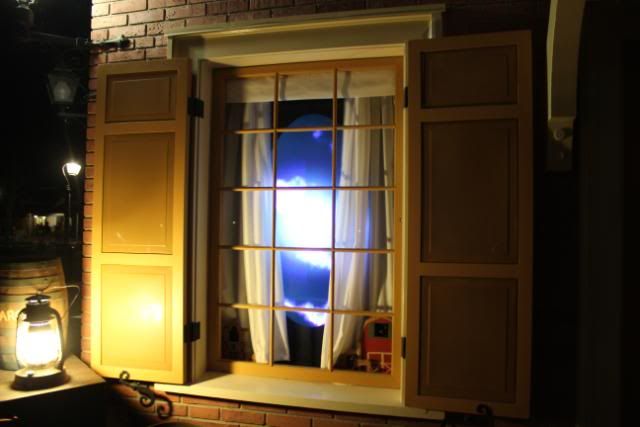 I personally have cards 1-60 (I've finished my collection ~ Yay!), I've completed my set, so I'm not as picky when it comes to trading my cards. If someone needs a card and I have it, then I'll trade with them.
But ... if you have a Star card, and need a Star card, save your Star card to trade for another Star card, or you may not be able to get one. They are hard to get, you only get 1 in each pack, and you can only get 1 pack each day.
There are 22 Star Cards so they take awhile to collect, and everyone seems to be needing and asking for the Star cards.
Now that I've completed my collection, and helped the kids to get closer to completing their own collections, I've taken our extra cards and listed them on eBay for sale.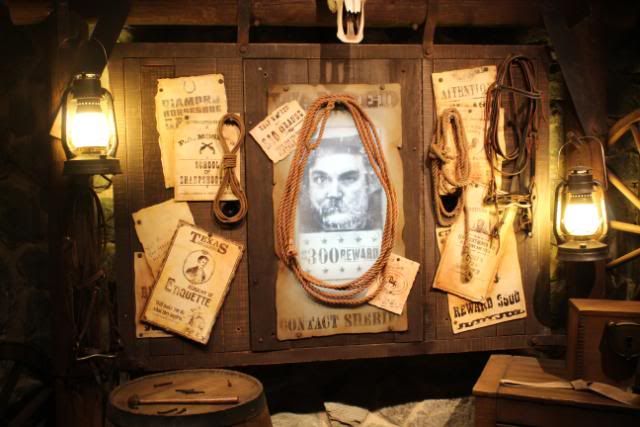 I made them very affordable, and I have a great variety to choose from. I actually did this to help supplement the gas cost to go to Disney Magic Kingdom (about $10.00 a day), to get more cards to help the kids complete their sets, lol. ☺
The kids want to go to the MK all the time, to get more and more cards to complete their collections, so why not put our extras in our eBay store and share the Magic?
I hardly make anything on them, selling them for under $2.50 each with free shipping (and buy 4 get 1 free!), but each little bit helps.
I kept some to take with me each time I go to the MK to trade, in case someone needs any I have. I'm a trader at heart, what can I say? I love trading Disney pins, and I love trading Sorcerers of the Magic Kingdom Cards. I find I meet so many nice people and cast members when I'm trading. I've never traded at Tortuga Taverns (we usually don't go to the MK during the day), but I will check it out this week, and post here all about it.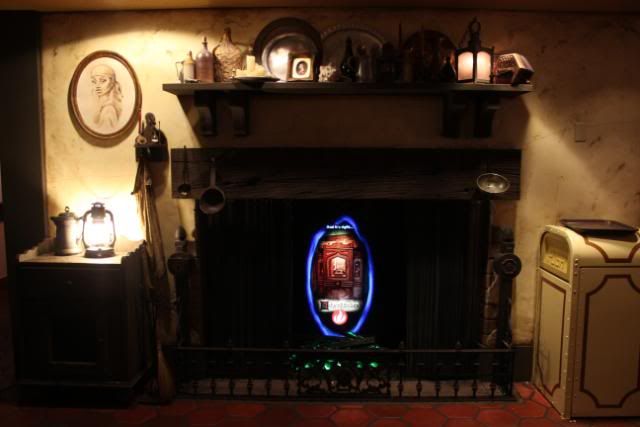 Portal in Tortuga Tavern
I also enjoy sharing my cards with others without trading, by just giving them away. I have so many, and I'm so blessed to be here, next to the magic, and be able to go to the Magic Kingdom as much as I want, and I know how special kindness makes others feel, and it makes me feel great too ♥.
It's so easy to brighten someone's day by giving them a favorite character spell card. The cards were free, I have plenty of them, and I can get more (it's just adds up in gas money going over there all the time). It's easy to be an easy trader, and to also give the cards out here and there to people who need them, and will really appreciate them.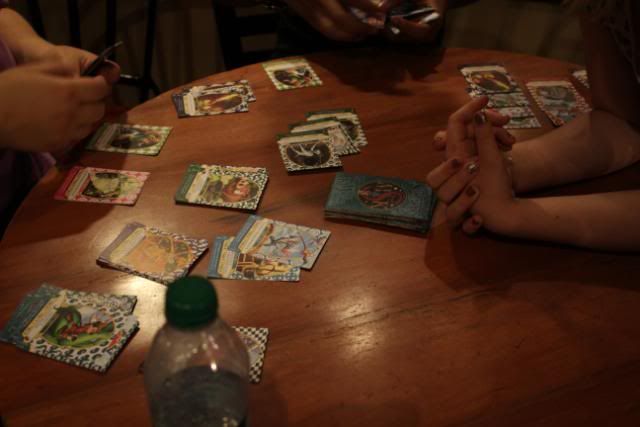 Remember, do what makes you happy, and now that you have the knowledge on Sorcerers of the Magic Kingdom Spell Card Trading, you can trade fairly, and keep the fun in the game ☺.
'Till next time Sorcerers!
Thanks for reading our Living Disney Blog! We update daily with new posts so please Follow Us to stay Up To Date!
♥ ♥ ♥ ♥ ♥ ♥ ♥ ♥ ♥ ♥ ♥ ♥ ♥ ♥ ♥ ♥ ♥ ♥
Please Check out our Website for more detailed information on Walt Disney World Resorts.
http://www.Explore-Disney-Resorts.com.xml
http://www.livingdisney.co.xml