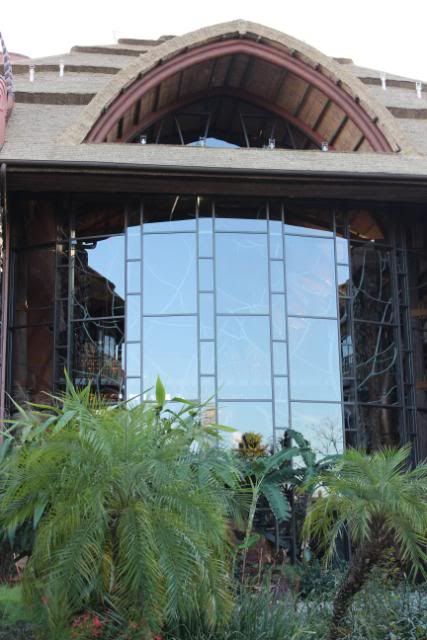 Disney Animal Kingdom Lodge Jambo House
We were lucky enough to get to spend a weekend at the Animal Kingdom Lodge Club Level Concierge earlier this year.
Here on our Living Disney Blog, we want to share our information with you!
Club Level gives you exclusive access to the Kilimanjaro Club located on the Sixth Floor of the AK Lodge Jambo House.
Beautiful View from the Kilimanjaro Club on the 6th Floor
Concierge guests are the only guests allowed to purchase special exciting and unique experiences that are offered in the AKL to Club Level guests only ~~~ the Sunrise Safari Breakfast Adventure.
Safari for Club Level Guests
In addition to being able to participate in one of the wonderful options above, club level guests also get turn down service and robes in their rooms, and best of all, a nice concierge staff to help you with anything you may need help with concerning your Walt Disney World Vacation and my favorite part, unlimited access to the Kilimanjaro Club for snacks, food and drinks throughout the day!
To me it's worth the difference in price for the availability of the snacks, food and drinks during the day, and evening.
Most Walt Disney Resorts that offer Club Level have their concierge lounge on the same floor as the concierge rooms, but in the Jambo House the concierge rooms are actually located on the 4th floor, which some people do find inconvenient.
I personally didn't mind taking the elevator, or stairs, to the Sixth floor to the lounge.
Sixth Floor Kilimanjaro Club Concierge Lounge
Make sure to bring your camera for great Disney Pictures. This is one of the Best Disney Resorts for great shots. For years we only owned a point and shoot and could never really take the pictures we wanted. Now we are so happy and love capturing all of our special memories. We use our Canon EOS Rebel T3i Digital Camera. We make sure to always bring our telephoto lens too. It is great for the up close and personal details of the animals and rides.
We really enjoyed leaving our room (on the 4th floor), and heading up to the 6th floor to have a light breakfast before heading to the parks. The had the most delicious tea and a wonderful Espresso machine, complete with flavored syrups and steamed milk!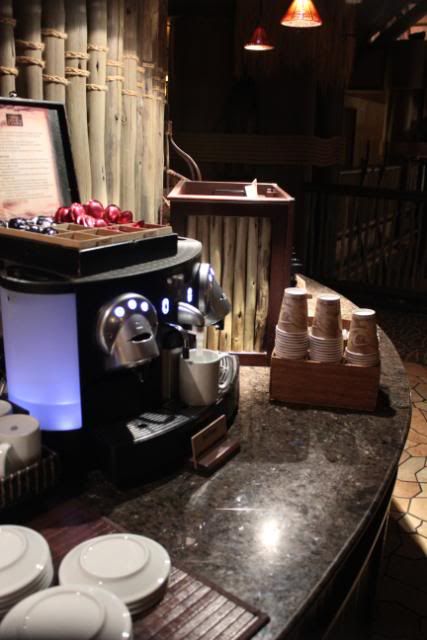 Espresso Machine
They offer Macheo from 6:30am-7am, and during that time you will find coffee and a variety of juices.
If you're looking for more of a breakfast you will want to go to the lounge for Maimko, from 7:30-10am. During those hours you will find cereal, fruit, juices, pastries (including muffins), and the always available soda, water, coffee, tea.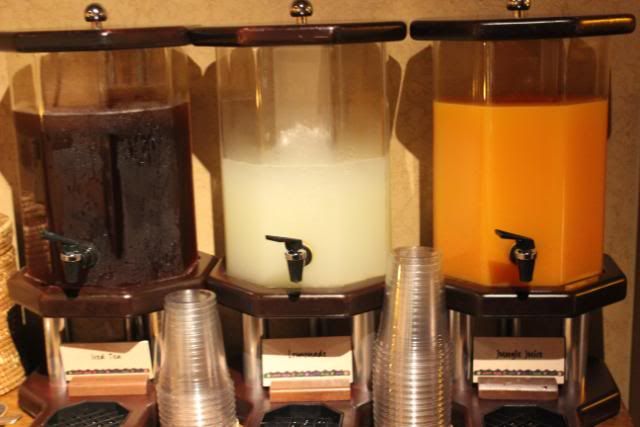 Juices
If you find yourself at the resort in the afternoon and you're in need of a light, buy yummy snack, head to the lounge for Vitafunio, available from 11:30-3pm offering African inspired snacks and drinks.
We really enjoyed Chai, the afternoon tea time. They served tea of course (which we all love), scones (which were very yummy!), and a pretty little variety of cookies. Chai runs from 3:00-4pm each day.
Tofu (left) and Lamb (right)
We really enjoyed coming back to the resort mid day to enjoy tea time in the lounge. It's a gorgeous lounge and very laid back and relaxing. It was the perfect way to unwind and relax from a busy morning, and to recharge our energy for the rest of the day!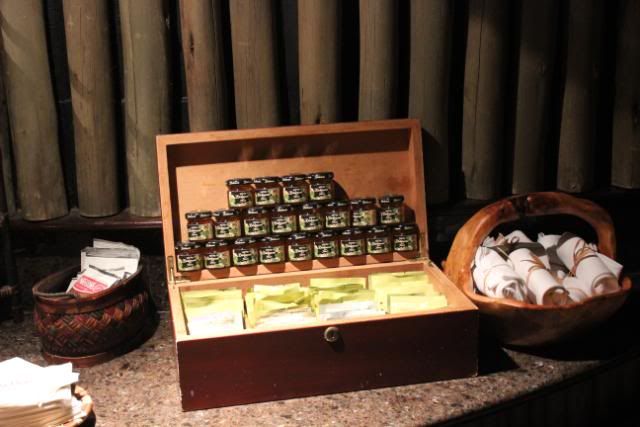 Tea Selection
After Chai ends at 4pm Kisikusiku starts and runs until 7pm. During this "dinner" time you will find wonderful and delicious hors d'oeurevres and appetizers straight from the Animal Kingdom Lodge's own Boma and Jiko restaurants!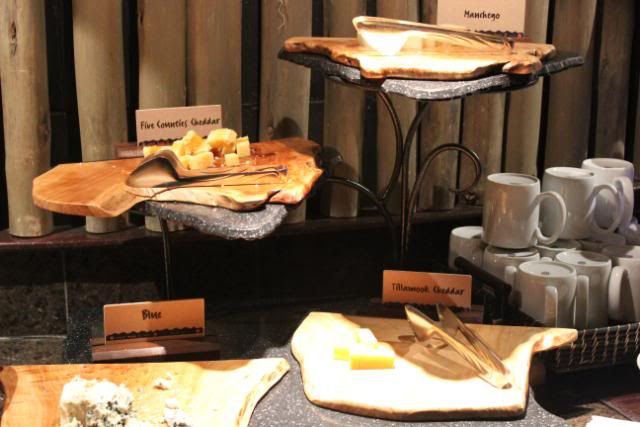 Cheese selection
I really enjoyed the selection of cheese they offered, and the hummus.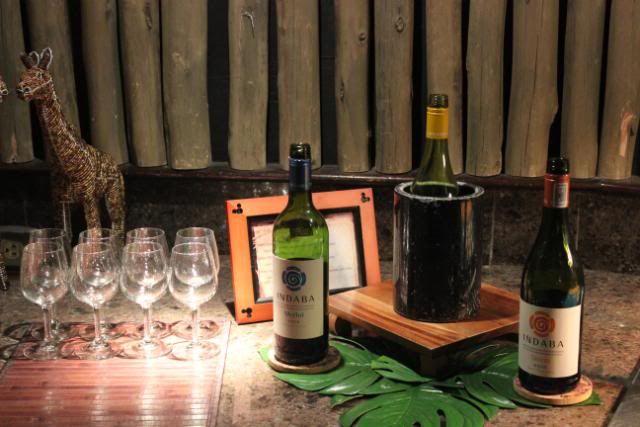 Wine Selection
They also put a selection of wine and beer out for your enjoyment.
Appetizers
For the children they have a table set up by the kids seating area, which consists of a couple of low tables and chairs, and a TV. I like how they set the children's area in the corner, so they kids can watch TV and talk to the other children without being in the center of the room, or other guest's ways.
Children's Selection
On the children's table they have a variety of little kid friendly foods to choose from. They had sliced apples and caramel available each night (pretty much all the kids ate while there, lol), and grapes too. They also had mini corn dogs, without the stick, which were very delicious and popular with the adults too. One of the nights they had little corn cakes, which I found very tasty.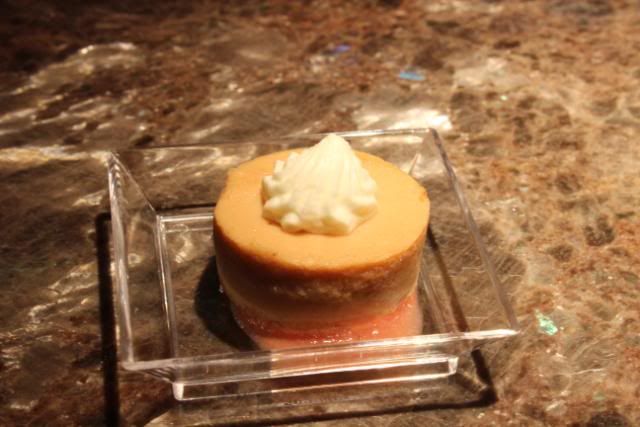 We always went back up to the lounge for Rehema ~ desserts! From 8-10pm you will always find a variety of beautiful and delicious little desserts and cordials to go along with it! I really enjoyed winding down my busy, fun, and magical day relaxing in the lounge with tea and a dessert or two.
Macaroons for dessert!
The Club Level staff were really wonderful and attentive. They were always there to take our empty dishes, or to get a request for us if we had one, which we did each day (Soy Milk). Although they have a cooler with sodas, beers, juice and milk, they also have Soy Milk should you require it, and they are more than happy to get you some if you ask, and any other special request you may need.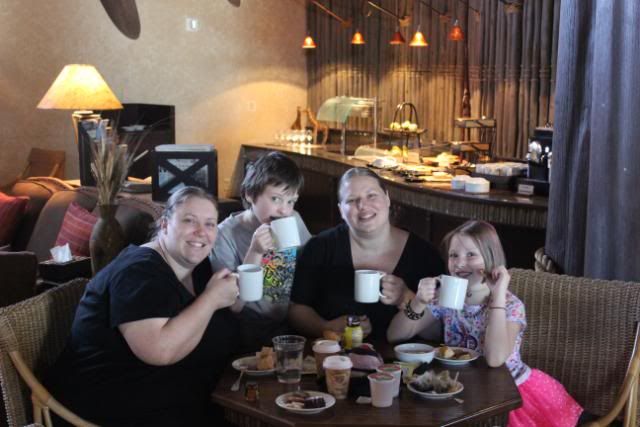 Us enjoying Tea Time!
I have to admit that I truly enjoyed staying in the Club Level. It was worth every penny, and although I never considered staying in Concierge on my past Walt Disney World Vacations, I would definitely plan to stay there now, were I still vacationing at DisneyWorld and needing to choose from one of the Walt Disney World Resorts.
Vegetable Selection and cold soup
The wonderful way you are treated by the concierge cast members, from the moment you arrive and are walked to the concierge level, and the knowledge that they are there for you from 7am-10pm each day should you need them, all adds to the feeling of being well cared for, and taken care of. It truly adds simplicity to your busy WDW vacation, and makes it much easier to enjoy.
The food, drinks and snacks available whenever I want them was also very convenient for us. It reminded my of being on a cruise, having food ready whenever you wanted it. Not having to worry about where you're going to eat, and how you're going to work it into your schedule. It really made me feel pampered and special.
Hummus Selection
Having the food in the lounge really helped with dining plans during those busy park days too. We could eat breakfast for no charge, come back for lunch or snacks, and then eat dinner and dessert too, all for no extra cost! All in all it saved us money on dining!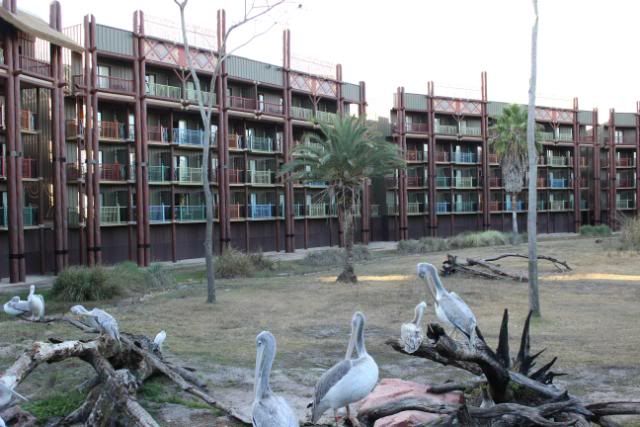 I highly recommend a stay at Disney Animal Kingdom Lodge Concierge Club Level, even if it's only for a night or two ♥. A stay in club level is the perfect weekend splurge, or birthday gift to yourself, or loved one.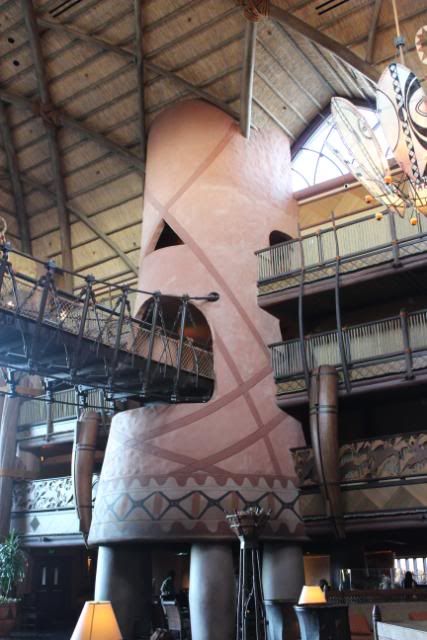 Amy in MO had some great questions about Club Level Concierge, thanks for posting them! Here are the answers to your questions:
•
Question #1: What is the price difference in the club level and the regular rooms?
A Regular Standard Room that sleeps 4,
with NO Savannah view is around $265.00 per night.
A Standard Room that sleeps 4, WITH A Savannah View is around $340.00 a night.
The
Kilimanjaro Club Level with Concierge Service - Standard Room that sleeps 4 (this is a Savannah view room with all of the concierge benefits) is around $385.00 a night.
As you can see, depending on which room you would have normally booked, staying in concierge can cost you anywhere from $45.00 a night more ~ to $120.00 a night more.
•

Q

uestion #2: Is there a way to use the service if staying at DVC?
Yes, you can use the Club Level Services if you're staying at The DVC rooms at AKL!
The Disney Vacation Club had rooms available at the AKL and they are actually on the 6th floor, Kilimanjaro Club Level. They include the same benefits, and offer full use of lounge, just as the other club level AKL guests receive.
All you need to do if you want to stay at the club level of any WDW resort is arrange it with the DVC beforehand, when booking your rooms.
DVC rooms are available on the Club Level at all WDW resorts offering concierge service.
•

Question #3: Is this the same spread of snacks found at each of the resorts or is this specific to AKL?
No. Each resort concierge level offers snacks and food items that are themed to match that resort.
Although you will find the varieties of hot tea, sodas, beer, wine, liquor, cheese and snacks at each
club level in WDW are the same, or very similar, the foods do vary, especially for the dinner snacks.
The food selections at the AKL club level are African inspired, and actually come from their own restaurants, Boma and Jiko, the Cooking Place.
We have stayed at all but 2 of the Club Levels in the various Walt Disney World Deluxe Resorts, and each one is very different, and unique. I will share my experiences on each one here with you all on my Disney Blog ☺.
Allison had a great question about Florida Resident Discounts on Disney resorts, thanks for posting it! Here is the answer to your question:
•
Question: Do you get special discounts for living in Florida?
Yes! Disney offers great discounts on their resorts for Florida Residents. You can find discounts offered throughout the year, which vary depending on which resort you're interested in booking.
Currently the Florida Resident discount on WDW resorts is 15%-30% off of regular rates and it runs through June 14th, 2012.