Captain Cook's is a Counter Service, or Quick Service restaurant that offers Disney resort dining at the Disney Polynesian Resort.
It can be found on the first floor of the resort (called the Great Ceremonial House), to the back left side of the main building. The grill is open from 6:30am - 11pm and it's and you can use your Disney Dining Plan Quick Service and Snack Credits there.
Did you know that Capt. Cook's is open 24 Hours?!? Need a late night snack? How about some milk or a soda?
Then you're in luck! You can pick up drinks and prepared snacks and foods 24 hours a day!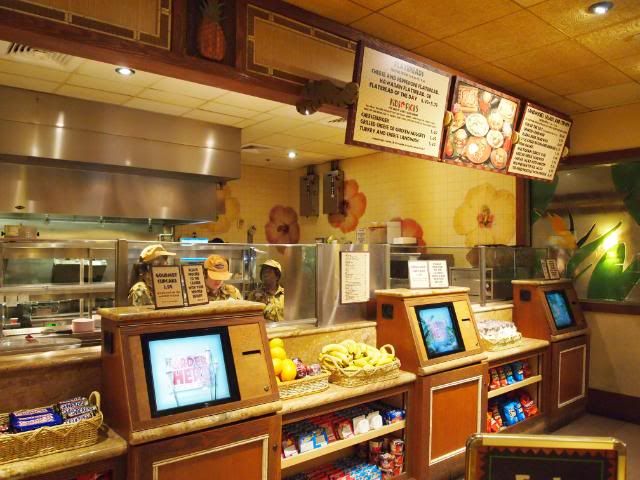 The restaurant is small, but it's efficient. We never have much of a wait, even if the line is long. They have touch screen ordering, that is very easy to use, and even has a translator for guests speaking another language than English.
-->
They offer many snack choices, including fresh fruits, salads and sushi from the Kona Island Sushi Bar which is located upstairs.
You can view the menu here: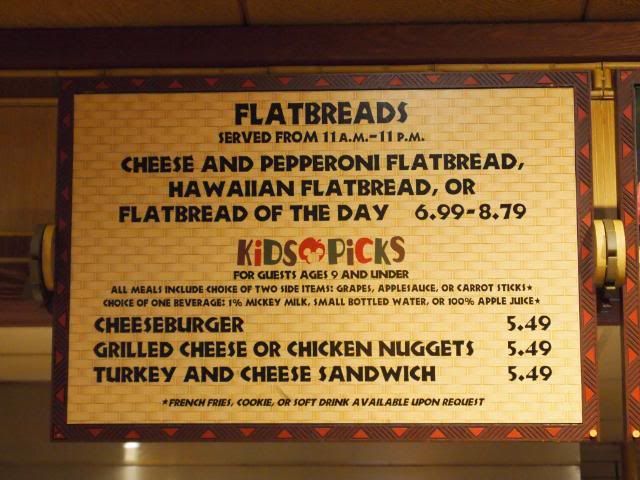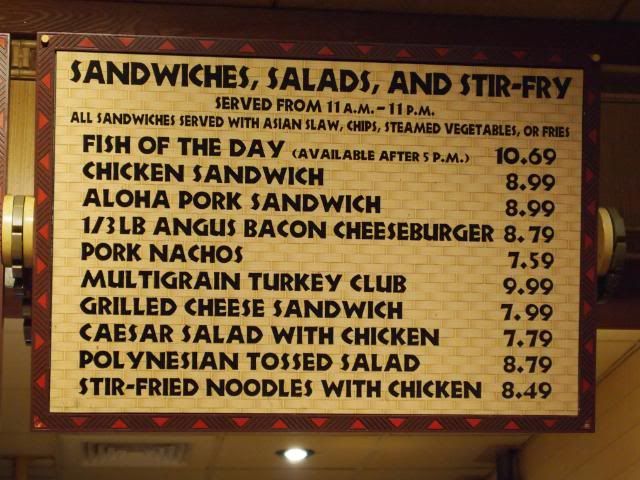 All you do is place your order on the touch screen and pick up a buzzer that notifies you when your order is ready for pick up. That's one of the things I love about Captain Cook's, and also what makes it run so smoothly.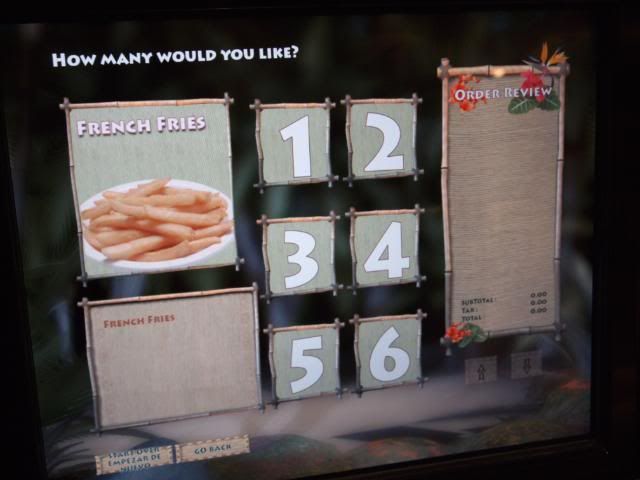 While you're waiting for your food you can go and get a seat, either indoor, or outdoor, fill your drink mugs, grab some baked goods or a Dole Whip our favorite treat here at the Living Disney blog.
-->
Did I say Dole Whip? But wait, we aren't in the Magic Kingdom ...
Yes, Dole Whip! Captain Cook's is the only place in Walt Disney World besides Aloha Isle in Disney Magic Kingdom that you can get the ever famous and delicious Dole Whip!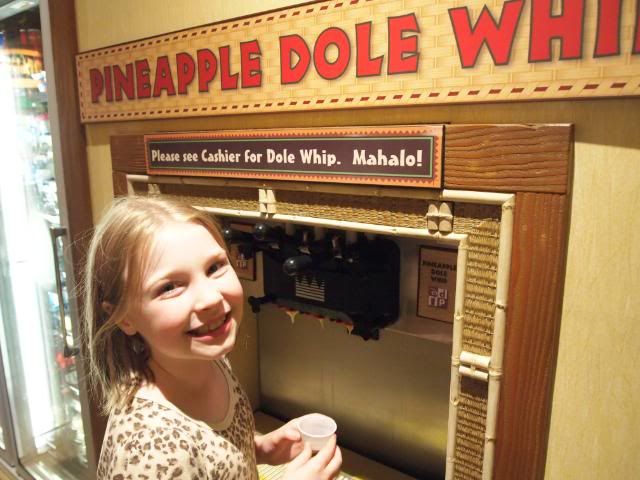 If you're never tried it before don't be afraid to ask for a sample. They have Pineapple Dole Whip and Vanilla Dole Whip, and also a swirl, containing both Pineapple and Vanilla.
You'll also find a bakery case filled with yummy pastries, including some special tropical themed cupcakes!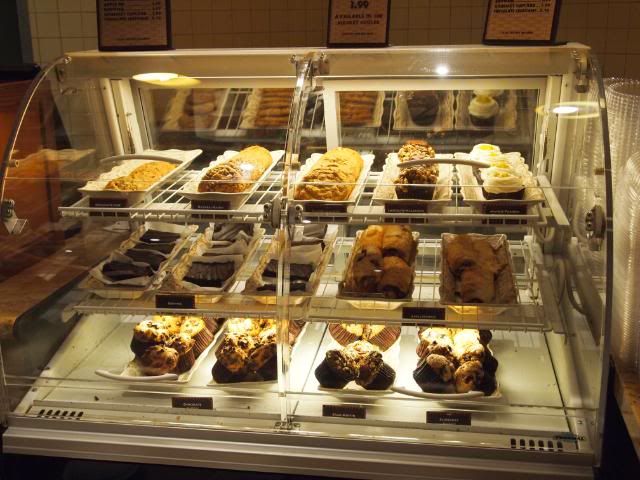 Mango-Passion Fruit Cupcakes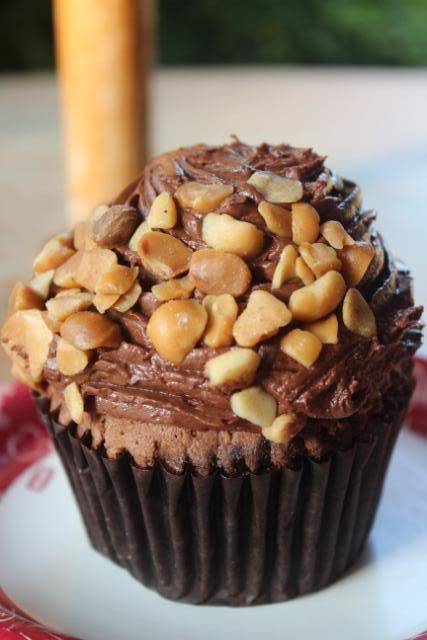 Chocolate Macadamia Nut Cupcake
They sell the plastic refillable mugs and have many soda choices available, including coffee, tea and hot chocolate.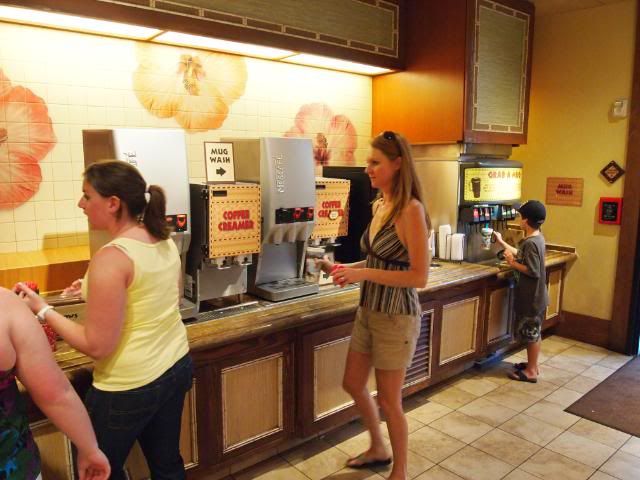 When your order is ready, and you're ready to check out just head over to the registers in the center of the restaurant and pay for your items.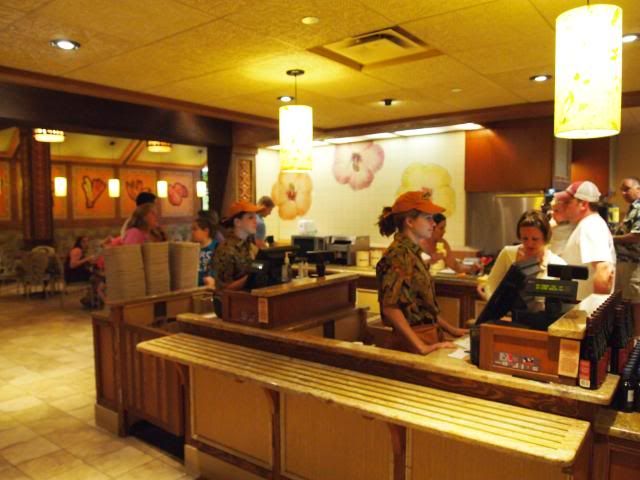 There is plenty of seating in two different areas inside the restaurant, and also on the patio behind the restaurant, accessible from both dining rooms.
This is a wonderful Disney Dining restaurant, and I highly recommend eating here if you have the chance. Whether you're staying at the Poly or not, you can enjoy breakfast, lunch or dinner at Captain Cook's in the Disney Polynesian Resort.
It's only a Disney World monorail ride away from the Magic Kingdom, or a Disney boat ride across Bay Lake from the Magic Kingdom. If you're driving you can go right through the gates, there is plenty of guest parking in the parking lot.
The best fries in Disney!
I highly recommend the Tonga Toast for breakfast, or the Pork Nachos for lunch or dinner.
I also highly recommend their french fries. They have THE best french fries in WDW!!!
Trevon at the Polynesian. There are so many Disney picture taking opportunities at the Poly!
Click on the Video below to view our visit to the Polynesian Resort and Capt. Cook's, including a sighting of the Avenger's Monorail!
You can view more Walt Disney World videos on our YouTube page:

LivingDisney
Thanks for reading our Disney Blog! We update daily with new posts so please Follow Us to stay Up To Date!
♥ ♥ ♥ ♥ ♥ ♥ ♥ ♥ ♥ ♥ ♥ ♥ ♥ ♥ ♥ ♥ ♥ ♥
Please Check out our Website for more detailed information on Walt Disney World Resorts.
http://www.Explore-Disney-Resorts.com.xml
http://www.livingdisney.co.xml
☻ ☺ ☻ ☺ ☻ ☺ ☻ ☺ ☻ ☺ ☻