We we went to the opening day of Star Wars Weekends 2012 at Disney Hollywood Studios the other day we saw so many awesome characters!
We have put together a video for you to enjoy, that highlights all of our favorite Star Wars characters we saw that day, and we've added some of our favorite photographs of the characters and their interactions with the guests too!
My favorite thing about Star Wars Weekends each year is the characters. They are so realistic and wonderful to watch.
-->
They way they interact with other guests, and the guests interact with them, is awesome.
My favorite character to see at SWW is Darth Maul. He's always so scary and intimidating. I remember the time I took a picture with him the year before last. I could hardly keep a straight face! He was giving me such a look, he was so good at playing his part!
-->
Did you know that even guests dress up during SWW? That's right! You'll see many fans dressed as their favorite Star Wars villains, heroes and characters throughout the day.
Don't have a Star Wars costume? Don't worry, you can buy one at Darth's Mall!
You can buy the Chewbacca costume above for only $600.00 (the cheapest full costume available at Darth's Mall) ~ but it may be too hot to wear here in Florida ☺.
Even Duffy the Disney Bear can dress up!
They sell neat Jedi robes in the gift shop, along with hats and shirts, backpacks and jackets if you just want to wear something Star Wars themed for the day.
Or you could make your own costume like the ones below ... which I thought were cool, creative and comfortable.
If you want a picture with one of the characters there are many opportunities.
There are many character meet and greet spots set up for specific characters. The lines weren't bad, one of the longest lines we saw that day was for Chewbacca and an Ewok.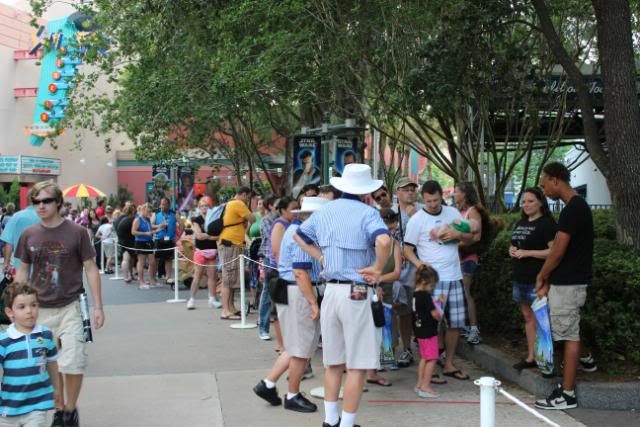 Darth Maul and DarthVader's lines gets pretty long too, so you should go a little early to line up for the popular characters.
In addition to the Star Wars Character Meet and Greet stations, you can interact with SW characters on the streets near the Studio Catering Company!
Please know that if you want a picture, or an autograph with one of the "free roaming" characters on the street that it may be frustrating to get it, lol.
Of course I am a firm believer of waiting your turn, but there will always be those who just push their kids in front of the character for a picture, or an autograph regardless of how long you've been standing there waiting for a turn.
On top of that, the characters themselves seem to "pick" who they want to interact with. The Stormtrooper in the picture below left a huge group of waiting guests and came over to me and Zarius, when we were just standing around taking pictures and enjoying the atmosphere, with a lady following him begging for an autograph.
He totally ignored her, and pointed to Zarius (who was as surprised as I was, as he wasn't expecting to interact with the Stormtrooper, or even trying to). He pointed to Zarius and then pointed to the ground next to him.
It caught us off guard, but Zarius went up to him to pose for a picture. They lady that had been following him was not too happy to be shooed away, but Zarius was happy that the Stormtrooper wanted to pose with him.
It can be really frustrating to try and catch the attention of a free roaming character, so be prepared before you go, so you will have more patience on your quest.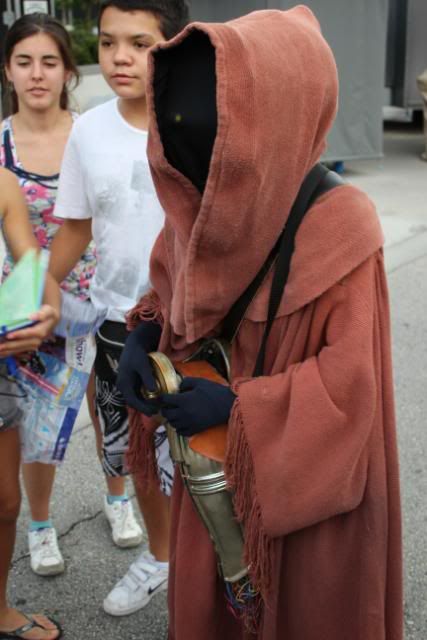 I do have to say though, that the whole "free roaming" character thing makes it so much fun to watch. The characters will go up behind the guests when they least expect it, and startle them, and the guest may run off screaming, lol.
Thanks for reading our Disney Blog! We update daily with new posts so please Follow Us to stay Up To Date!
♥ ♥ ♥ ♥ ♥ ♥ ♥ ♥ ♥ ♥ ♥ ♥ ♥ ♥ ♥ ♥ ♥ ♥
Please Check out our Website for more detailed information on Walt Disney World Resorts.
http://www.Explore-Disney-Resorts.com.xml
http://www.livingdisney.co.xml