Sorcerers of the Magic Kingdom Spell Card Binder
The Living Disney blog has big news tonight!
Disney has officially released it's first merchandise for the Sorcerers of the Magic Kingdom game!
Please watch the video below to see the Sorcerers of the Magic Kingdom Card Binder.
We went to the Magic Kingdom tonight and when we went into the Main Street Fire Station to get our spell cards for today we noticed they had a display ~ a Disney Trading Card Binder!
-->
It had a Disney price tag, and was filled with SOTMK cards and a Portal Key. (The binders don't come with any cards, it was just filled with cards for display purposes)
We asked the CM about it and she told us they were for sale in the Emporium across the street.
We went straight to the Emporium and asked the manager we traded pins with about the new SOTMK merchandise. She told us they didn't have any.
I told her they did have it, that there was a card binder on display in the Fire Station and she said that she knew nothing about it.
We looked around and found them mixed in with the trading pin books and satchels.
They had 2 for sale, I don't know if they had more and they just sold out, or if they only have a limited quantity.
SOTMK Spell Card Binder
It seems as if know one knows there has been merchandise released yet.
I haven't seen it anywhere on the net, and I haven't seen any announcements by Disney themselves.
I was very excited to discover they had merchandise for sale. Maybe packs of Spell Cards will soon follow ... ☺.
I sure hope they will be more affordable than this card binder ...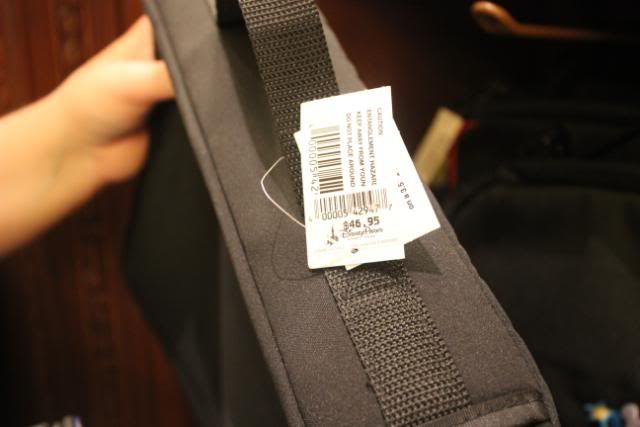 $46.95 for the Card Binder
I was shocked to see the price of $46.95. That's really steep for a binder with 5 plastic pages in it!!!
I have to admit I was expecting their Official Disney Merchandise binders to be smaller, like the ones we have, and maybe around $20.00 each.
The binders they now offer are very large, and although a zipper is nice to keep your cards from falling out as you walk around the park and play the game, it does make it harder to get into when you're going from portal to portal.
The book is very large, and thick, but only contains 5 sheets. It doesn't have any pockets inside, which would have been nice to put portal keys in, or park tickets, SOTMK map, etc.
I personally prefer my smaller, compact card binder that I picked up from a local Comic Book store for $4.99.
I think these binders would be great for storing your card collection at home, but for folks who go to the Magic Kingdom and play the game often, I would go for the smaller trading card binders not found at Disney.
Thanks for reading our Disney Blog! We update daily with new posts so please Follow Us to stay Up To Date!
♥ ♥ ♥ ♥ ♥ ♥ ♥ ♥ ♥ ♥ ♥ ♥ ♥ ♥ ♥ ♥ ♥ ♥
Please Check out our Website for more detailed information on Walt Disney World Resorts.
http://www.Explore-Disney-Resorts.com.xml
http://www.livingdisney.co.xml