Star Wars Weekends at Disney Hollywood Studios is an annual event, running over the course of a few weekends each summer in Walt Disney World.
This year's Star Wars Weekends kicks off on May 18th (and we'll be there, so check back for a photograph filled report☺), and runs each Friday, Saturday and Sunday through June 10th 2012.
During SWW you'll find many of your favorite Star Wars characters from the hit movies and the TV series, dressed in authentic costumes, and playing their parts well.
-->
You'll also find different events scheduled throughout the day, and Celebrities giving away Free Autographs and speaking during special programs for guests at DHS that day.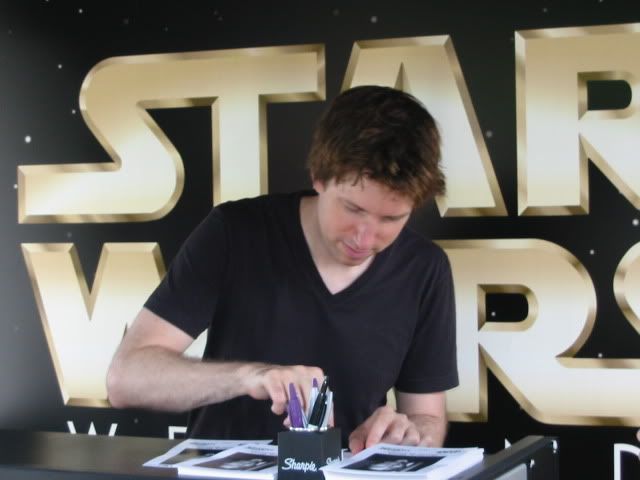 Celebrity Autograph
If you want to get autographs from your favorite Star Wars celebrities, make sure to arrive at the park early and get a Fast Pass!
Autographs are extremely limited, and if you don't have a Fast Pass for the autograph line, you won't be able to get one.
Autographs are available: 1 per person, and it's first come, first served.
Fast Passes for the Celebrity Autographs usually "run out" by the time the park opens, or shortly thereafter.
NOTE: unlike regular Fast Passes, you may not get pick one up for your friends or family members. Each guest must be there in person to receive a Fast Pass.
If you're a guest who is under the age of 12, make sure to participate in the Jedi Training Academy located outside of the Star Tours attraction, where you'll actually get to duel with Darth Vader!
Zarius battling Darth Vader at the Jedi Training Academy
A very fun way to end the day is by watching the Star Wars Character filled stage show, Hyperspace Hoopla. Don't forget to watch the parade in the afternoon, it's a huge procession of Star Wars characters, including Ewoks, Stormtroopers and your other favorite characters.
Make sure to bring your camera, there are TONS of great Disney picture opportunities available!
Posing with your favorite character is super fun as the characters really act their parts. You will think you're IN the movies, the characters are so authentic!
Stormtrooper interacting with Zarius
During the event you can purchase special Star Wars Weekends merchandise, a lot of the items for sale being Limited Edition. Each year we make sure to pick up a Disney Trading Pin for the event to add to our Disney Pin Collection.
If you happen to have a Walt Disney World Vacation planned during 5/18-6/10 I highly recommend a day at DHS during one of the event weekends. Guests can even dress up for the event! You will see lots of fans wearing their favorite Star Wars costumes and Jedi robes.
There is no extra charge for entry to this event, all you need is your regular park admission! All the activities, shows, and special events are free, and the fun is plentiful!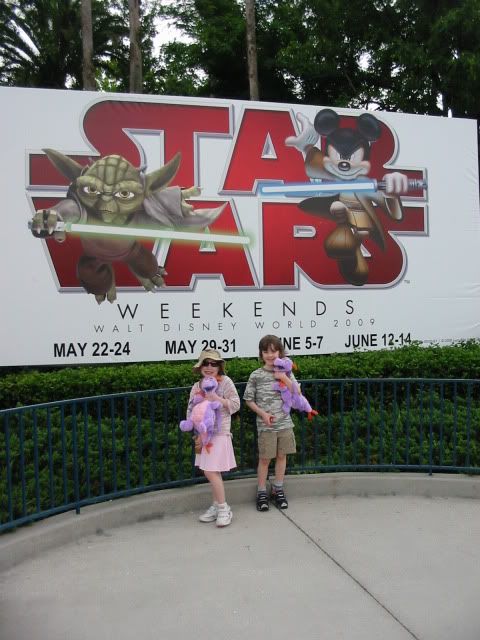 Mahnara and Zarius at their 1st Star Wars Weekends as Florida residents in 2009
We'll be at the very first Star Wars Weekend day this year, and we'll post all about our day and experiences here, so check back soon☺.
Thanks for reading our Disney Blog! We update daily with new posts so please Follow Us to stay Up To Date!
♥ ♥ ♥ ♥ ♥ ♥ ♥ ♥ ♥ ♥ ♥ ♥ ♥ ♥ ♥ ♥ ♥ ♥
Please Check out our Website for more detailed information on Walt Disney World Resorts.
http://www.Explore-Disney-Resorts.com.xml
http://www.livingdisney.co.xml