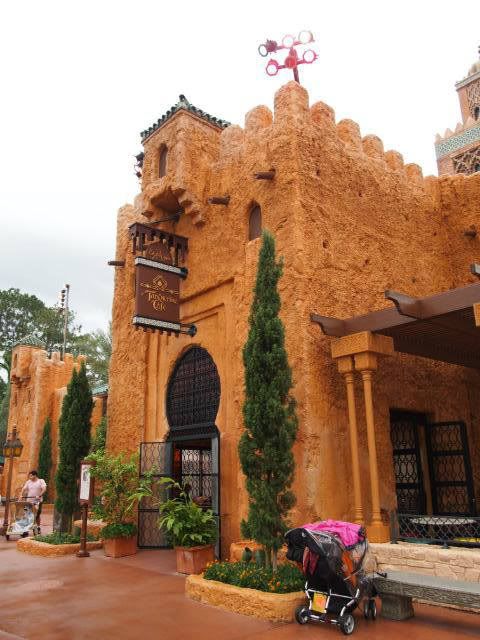 We had lunch at the Tangierine Cafe in Morocco in Disney Epcot World Showcase the other day for the very first time and we LOVED it!
I have to admit I always bypassed this counter service restaurant telling myself that I probably wouldn't like the food ... well, now I feel dumb for missing out all these years!
Tangierine Cafe is located in Morocco in Epcot in the World Showcase section of the park.
-->
It's easily accessible by boat across the lake, which makes it a convenient Disney Dining option while you're visiting Epcot. Even if you're spending your day in Future World you can take a little boat ride across the lake on an Epcot Friendship Boat and step into a magical and beautiful country to enjoy lunch, then hop back onto the boat to resume your day in Future World.
The food was so delicious, we all loved it, even the kids, who are generally picky.
We tried the Chicken and Lamb Shawarma Combo Platter ($13.99), and it was SO good!
-->
They also have a Vegetarian Platter for the veggie lovers out there. That's on my list as next in line to try ☺.
The food was flavorful, and sweet, not spicy, and Zarius who rarely eats any food outside of the home, actually loved the chicken and wanted more.
I really feel that even the pickiest eater would enjoy a meal at the Tangierine Cafe!
One thing I like about this restaurant, (and I'm sure it increases sales), is that they put each of their menu choices on display so you can see how yummy they are.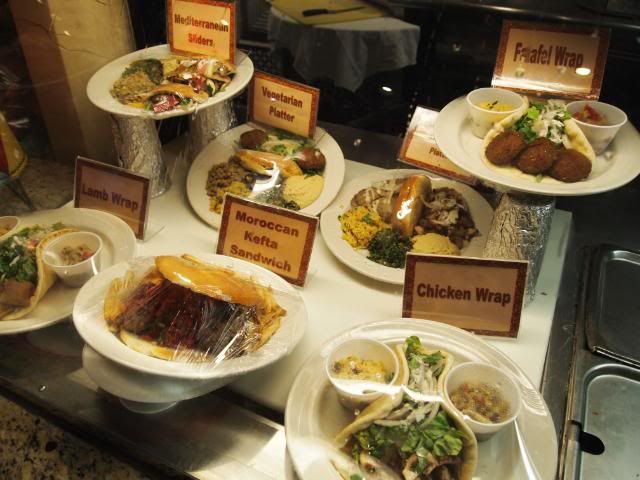 As you can imagine, this makes making a choice very difficult. I'll take 1 of each please, lol.
In addition to the lunch and dinner menu, they also feature a bakery, filled with fresh and delicious desserts, and specialty Coffe Drinks, including ones for adults only ~ they add liquor!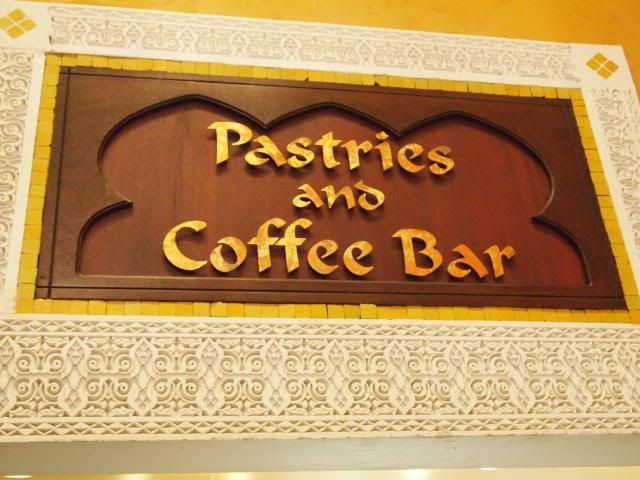 We choose the Pistachio Baklava and boy was it incredible!
The restaurant is open and spacious, with plenty of seating inside and out.
You can even enjoy entertainment while you eat if you choose the outdoor seating, which offers a view of the stage that features Mo'Rockin (an awesome band), and the belly dancer.
Tangierine Cafe is open daily from 11:30am until 9pm, and they do accept the Disney Dining Plan for Quick Service and Snack Credits.
I just love the atmosphere, it's very authentic, and I always feel as if I've been transported across the seas to Morocco when I visit that country.
Whether you are going to eat lunch, dinner, or just stopping in for a fresh baked good and a specialty coffee, or frozen fruit drink, you're sure to enjoy your visit to this beautiful land.
If you plan on visiting Morocco in the World Showcase by Disney boat, please know that the Friendship boats do not run through
park closing. Please check the hours of operation once you arrive at Epcot and plan accordingly.
Thanks for reading our Disney Blog! We update daily with new posts so please Follow Us to stay Up To Date!
♥ ♥ ♥ ♥ ♥ ♥ ♥ ♥ ♥ ♥ ♥ ♥ ♥ ♥ ♥ ♥ ♥ ♥
Please Check out our Website for more detailed information on Walt Disney World Resorts.
http://www.Explore-Disney-Resorts.com.xml
http://www.livingdisney.co.xml
☻ ☺ ☻ ☺ ☻ ☺ ☻ ☺ ☻ ☺ ☻