We just got home from an incredibly fun day at Disney Hollywood Studios, and the opening Day of Star Wars Weekends 2012!
I have so many stories, photographs and videos to share with you all, and I will be posting them this weekend!
Tomorrow you will find videos of our day on YouTube, at

LivingDisney

, and here on our Disney Blog you'll find many posts about our experiences and fun.
Make sure to subscribe to us on YouTube as we're uploading new Disney World videos almost every day! You can visit us on YouTube and subscribe, or subscribe right here on our blog.
-->
You'll find a button on the top left of each page that makes it easy for you to subscribe to us on YouTube, Facebook, Twitter, Pinterest and more. There is also a button to subscribe on the right of this post.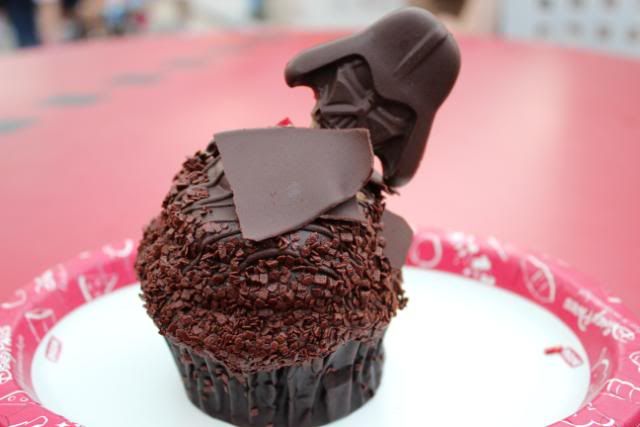 If you're looking for information for an upcoming visit to Star Wars Weekends, or just want to join in on the fun, check back soon ☺.
-->
We watched (and recorded) the Hyperspace Hoopla, tried a delicious Darth Vader Chocolate Peanut Butter Cupcake (YUM!), posed for pics with Star Wars characters and went shopping at Darth's Mall. We recorded all the awesome merchandise available for sale at Darth's Mall and will share it with you on video.
It was such a wonderful and exciting day, and I can't wait to go back!
We seemed to have even more fun this year than last! The crowds weren't bad, the characters were awesome as usual, the weather was okay, (we had a little rain this evening, might want to bring an Umbrella), and the time flew by way too quickly as always.
Remember to check back tomorrow for Star Wars Weekends updates and videos and good night!
Thanks for reading our Disney Blog! We update daily with new posts so please Follow Us to stay Up To Date!
♥ ♥ ♥ ♥ ♥ ♥ ♥ ♥ ♥ ♥ ♥ ♥ ♥ ♥ ♥ ♥ ♥ ♥
Please Check out our Website for more detailed information on Walt Disney World Resorts.
http://www.Explore-Disney-Resorts.com.xml
http://www.livingdisney.co.xml
☻ ☺ ☻ ☺ ☻ ☺ ☻ ☺ ☻ ☺ ☻